Photo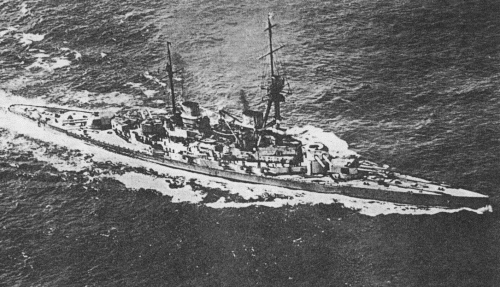 Derfflinger 1918  
Ships
| Name | No | Yard No | Builder | Laid down | Launched | Comp | Fate |
| --- | --- | --- | --- | --- | --- | --- | --- |
| Derfflinger |   | 213 | Blohm & Voss, Hamburg | 1/1912 | 1.7.1913 | 1.9.1914 | interned 11.1918, scuttled 21.6.1919 |
| Lützow |   | 885 | Schichau, Danzig | 5/1912 | 29.11.1913 | 8.8.1915 | sunk 1.6.1916 |
Technical data
Displacement normal, t

Derfflinger: 26600

Lützow: 26741

Displacement full, t

31200

Length, m

210.4 oa 210.0 wl

Breadth, m

29.0

Draught, m

9.20 mean 9.56 deep load

No of shafts

4

Machinery

4 Marine steam turbines, 18 Marine doubled boilers

Power, h. p.

63000

Max speed, kts

26.5

Fuel, t

Derfflinger: coal 3500 + oil 1000

Lützow: coal 3700 + oil 1000

Endurance, nm(kts)

5600(14)

Armour, mm

belt: 300 - 100, bulkheads: 250 - 100, deck: 80, turrets: 270 - 80, barbettes: 260 - 30, casemates: 150, CT: 350 - 80, torpedo bulkhead: 45

Armament

Derfflinger: 4 x 2 - 305/47 SK L/50 C/08, 12 x 1 - 149/42 SK L/45 C/09, 4 x 1 - 88/45 SK L/45 C/13, 4 - 500 TT (1 bow, 2 beam, 1 stern)

Lützow: 4 x 2 - 305/47 SK L/50 C/08, 14 x 1 - 149/42 SK L/45 C/09, 8 x 1 - 88/45 FlaK L/45 C/13, 4 - 600 TT (1 bow, 2 beam, 1 stern)

Complement

1112
Standard scale images

Lützow 1916
Graphics
Project history
This class was a great improvement on Seydlitz and of markedly different design. They were flush-decked with a pronounced sheer giving freeboard at normal load of about 7.3m forward and 4.6m aft, and an extra deck known as the upper main deck, was worked in forward of the CT. Derfflinger was built under the 1911-12 programme and Lützow under that of 1912-13. GM is given as 2.60m and they were accounted excellent sea-boats though the casemates were wet. Tandem rudders were fitted and Derfflinger had Frahm anti-rolling tanks but they were apparently not used. A heavy tripod foremast was added to her after Jutland.

The 30.5cm turrets were arranged in superfiring pairs fore and aft, the latter being separated by the length of the after engine rooms. The Drh LC/12 mountings allowed 13.5° elevation, increased to 16° after Jutland. Magazines were below shell rooms except for reasons of space in the sternmost turret and this turret also differed in that the shell hoists were not broken at the working chamber. The 15cm were in an upper deck battery. The TT were arranged as in previous battlecruisers.

The boilers were double-ended and there were 12 boiler rooms with the 4 oil-fired boilers in the forward 4. Pressure was still 16.5kgf/cm2 and oil fuel sprays were later provided for the coal-fired furnaces. The main turbines were arranged in 4 engine rooms as previously. Derfflinger was commissioned for trials on 1 September 1914 and Lützow on 8 August 1915, but the latter had serious turbine troubles and did not join the combat fleet until the end of the following March. At Jutland her gunnery was of the highest quality but her watertight integrity was far below normal German standards. The usual deep water mile at Neukrug was considered unsafe in war and the 35m deep Belt mile was used. At 9.3m Derfflinger attained 76,600shp = 25.8kts, and Lützow at about 9.0m 80,990shp = 26.4kts equivalent to 28.0kts and 28.3kts in deep water at normal load.
Ship protection
The main belt ran from the fore barbette to a little past the after one, and was 300mm from 1.4m above to 0.4m below lwl tapering to 150mm at the lower edge 1.7m below lwl and to 230mm at the upper deck. Forward there was 120-100mm and 100mm aft. The barbettes were 260mm with the two superfiring ones reduced to 100mm behind the battery armour and all to 60mm behind the main belt with the two forward ones further reduced to 30mm below the upper main deck. The turrets had 270mm faces and rears, 220mm sides and 110-80mm roofs. The armour deck was 30mm amidships, 50mm forward and 80-50mm aft, and the upper deck 30-20mm outside the battery which had a 50-25mm roof. The torpedo bulkhead ran for the length of the main belt and was 45mm, continuing to the upper deck as a 30mm splinter bulkhead.
Modernizations
1914, Derfflinger: - 4 x 1 - 88/45; + 4 x 1 - 88/45 FlaK L/45 C/13 (AA)

1916, Derfflinger: - 2 x 1 - 88/45

1916, Lützow: - 4 x 1 - 88/45
Naval service
At the Dogger Bank Derfflinger was hit by 3 343mm shells with little damage but at Jutland, where she blew up the Queen Mary in 11 salvos, she was hit by 10 381mm, 1 343mm and 10 305mm shells. Both after turrets were put out of action with serious cartridge fires by 381mm shells from Revenge, while other 381mm hits had earlier caused flooding forward. At the end of the battle 3350 tons of flood water were in her, but 1020 tons of this was in the flooded after turret magazines and 206 tons in the wings to correct a 2° list.

She was raised at Scapa in 1934 for scrap.

At Jutland Lützow was hit by at least 24 heavy shells, believed to be 4 381mm, 12 343mm and 8 305mm. The worst damage was from 2 305mm from Invincible which burst below water in or near the broadside torpedo flat and with other shells caused flooding that became uncontrollable, and when the water line forward had reached the upper edge of 'B' barbette, she was sunk in 2 minutes by a torpedo from destroyer G38. Her own gunnery was excellent and she blew up Invincible and probably Defence.