Photo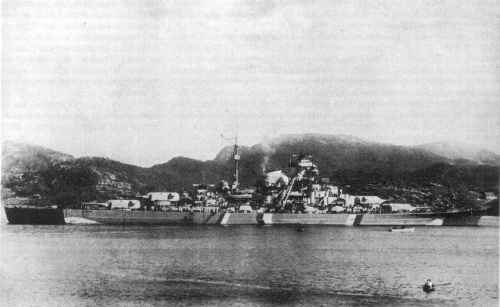 Bismarck 1941  
Ships
| Name | No | Yard No | Builder | Laid down | Launched | Comp | Fate |
| --- | --- | --- | --- | --- | --- | --- | --- |
| Bismarck |   | 509 | Blohm & Voss, Hamburg | 1.7.1936 | 14.2.1939 | 24.8.1940 | sunk 27.5.1941 |
| Tirpitz |   | 128 | KMW Wilhelmshaven | 20.10.1936 | 1.4.1939 | 25.2.1941 | sunk 12.11.1944 |
Technical data
Displacement standard, t

Bismarck: 41700

Tirpitz: 42900

Displacement full, t

Bismarck: 50900

Tirpitz: 52600

Length, m

Bismarck: 241.5 wl 250.0 oa

Tirpitz: 241.7 wl 253.6 oa

Breadth, m

36.0

Draught, m

8.70 mean 10.6 max

No of shafts

3

Machinery

Bismarck: 3 sets Blohm & Voss geared steam turbines, 12 Wagner boilers

Tirpitz: 3 sets Brown-Boveri geared steam turbines, 12 Wagner boilers

Power, h. p.

138000

Max speed, kts

29

Fuel, t

Bismarck: oil 7400

Tirpitz: oil 7780

Endurance, nm(kts)

Bismarck: 8525(19)

Tirpitz: 8870(19)

Armour, mm
belt: 320 - 270, upper belt: 145, upper deck: 50, main deck: 120 - 80, slopes: 100, torpedo bulkhead: 45, main gun turrets: 360 - 180, main gun barbettes: 340, secondary turrets: 100 - 40, CT: 355 - 50
Armament

4 x 2 - 380/48 SK C/34, 6 x 2 - 149/52 SK C/28, 8 x 2 - 105/60 SK C/33, 8 x 2 - 37/80 SK C/30, 12 x 1 - 20/65 C/38, 2 catapults, 4 seaplanes (Ar196)

Electronic equipment

Bismarck: 3x FuMO 23, FuMO 21 radars

Tirpitz: 4x FuMO 27 radars

Complement

Bismarck: 2092

Tirpitz: 2608
Standard scale images

Bismarck 1941

Tirpitz 1944
Graphics
Project history
Most powerful battleships and largest combat ships built in Germany. Their building became result of signed 18.6.1935 British-German Naval Treaty, allowed to increase German naval strength to 35% of the British. On political motives officially declared displacement of ships has been limited by 35000t, that corresponded to limits of London Treaty of 1936, but it has really appeared on 7000t more.

The prdesignoject of battleships "F" and "G" (By tradition existing in Germany, laid down ship received letter designation (thus in each class the "alphabetic" line was conducted) and in some cases the ship name, on replacement to which she was built (for example, "Ersatz Niobe"), and an official name to her was appropriated at launch afloat) was approved 16.11.1935. Structurally they repeated construction of Scharnhorst, essentially differing by main artillery. New 380mm/47 gun C/34 can fire 800kg shells on 36.5km range, and on 21km distance theoretically pierced 350mm armour. Sectioning of auxiliary artillery to secondary and antiaircraft was stored, but all 150mm guns were mounted in turrets, and number of 105mm AA guns has been increased. Fire control system has not changed.

The armored belt 5.2m in height m was fulfilled external and covered about 70% of waterline length (from fwd to aft end turrets magazines). In comparison with Scharnhorst, its thickness was decreased from 350 to 320mm (170mm at lower edge), but thickness of upper belt was increased from 45 to 145mm. Both belts became closed by transverse bulkhead, having a thickness 145, 220 and 180mm on battery, main and lower decks respectively. By parallel to the belt there was internal bulkhead having between the upper and main decks 25-30mm thickness, and lower becoming 45mm anti-torpedo bulkhead. Traditionally ship ends were protected: fwd by 60mm, and aft by 80mm armour. Armour decks were two: 50mm (80mm over magazines) upper and 80mm main with 110mm slopes (95mm with 120mm slopes over magazines), not reaching lower edge of main belt. Main barbettes had a thickness 340mm over an upper deck and 220mm under it. Main turrets were protected so: 360mm faces, 220mm sides, 180-150mm rears, and 130mm roofs. Secondary turrets had 100mm faces and 40mm sides, rears and roofs, their barbettes had 80mm protection over an upper deck and 20mm under it. Depth of underwater protection was 5.4m amidships and 3.5-3.05m abreast main turrets. Total armour weight was 18700t (44% of displacement).

Machinery was not changed essentially in comparison with predecessors: it still was 3-shaft and consisted from 12 Wagner boilers (58atm, 475°C) and 3 geared turbine units (Blohm und Voss on Bismarck and Brown-Boweri on Tirpitz). As well as on all German ships using machinery with high parameters steam, it differed by low reliability and efficiency. So, real fuel rate of Tirpitz exceeded expected on 10% at full speed and on 19% at cruising speed, that followed to serious endurance decrease. On trials Bismarck reached 30.12kts at 150070hp, and Tirpitz 30.8kts at 163026hp.

Both ships were equipped by transverse twin catapult (more precisely, by two opposite directed fixed catapults) and could carry up to 6 seaplanes (4 in hangars and 2 on catapults).

Tirpitz had all 105mm guns in LC/37 mounts (Bismarck and all previous German capital ships had LC/31), having higher aiming velocity.
Ship protection
Main belt between end barbettes (171.4x5.2m) had 320mm thickness tapering to 170mm at lower edge. This thick part closed by 220-145mm fore and aft bulkheads fwd from fore and aft from aft barbettes. Fore part of main belt had 60mm thickness ending at stem, aft part of main belt had 80mm thickness and closed by 150mm aft bulkhead of steering gear compartment. Upper belt between end barbettes was 145mm thick. Additional vertical protection consisted of 30mm longitudinal splinter bulkhead. This bulkhead extended from main to upper decks between end barbettes, was 170.7m long and placed in 5.5m from sides. Main 80mm deck protected citadel (its thickness increased to 95mm over magazines) and connected with main belt (1m above its lower edge) by 110mm (120mm over magazines) slopes inclined at 22° to horizontal. Lower 110mm deck extended from aft barbette ("D") to aft bulkhead of steering gear compartment, fore part of lower deck between "A" barbette and stem was 20mm. Upper 50mm deck was flat and connected with upper edge of upper belt, its thickness increased to 80mm over magazines. Main gun turrets had 360mm faces, 220mm sides, 170mm rears and 180-130mm roofs. Thickness of barbettes changed from 340mm abreast sides to 220mm near center line. Secondary turrets had up to 100-40mm protection with 80-20mm barbettes. Torpedo protection was 5.4m deep and included 45mm longitudinal bulkhead connected with splinter bulkhead. Fore CT had 350mm sides and 200mm roof, aft had 150mm sides and 50mm roof.
Modernizations
till 11.1940, Bismarck: only 4 x 2 - 105/60 SK C/33 were installed instead of 8 x 2

3/1941, Bismarck: + 1 x 1 - 20/65 C/38, presumably + FuMO 23 radar (4th)

5/1941, Bismarck: + 2 x 4 - 20/65 C/38, 5 x 1 - 20/65 C/38

7/1941, Tirpitz: + 4 x 1 - 20/65 C/38

9/1941, Tirpitz: - 4 x 1 - 20/65; + 6 x 4 - 20/65 C/38, 2 x 4 - 533 TT, FuMO 27 radar, FuMB 4, FuMB 7 ECM suites

6/1942, Tirpitz: + 2 x 4 - 20/65 C/38

3/1943, Tirpitz: + 2 x 4 - 20/65 C/38

6/1944, Tirpitz: - 6 x 1 - 20/65; + 8 x 4 - 20/65 C/38, FuMO 26, FuMO 213 radars, FuMB 6 ECM suite
Naval service
Bismarck in battle in Denmark Strait 24.5.1941 has sunk British battlecruiser Hood, but was damaged by artillery of Hood and Prince of Wales and additionally damaged by torpedo bomber from aircraft carrier Victorious; 26.5.1941 she was damaged by Swordfish torpedo bombers from British aircraft carrier Ark Royal (steering gear was badly damaged), 27.5.1941 entered battle against British squadron and was sunk by artillery of battleships Rodney and King George V and torpedo from heavy cruiser Dorsetshire in 400nm off Brest.

Tirpitz 22.9.1943 was damaged byexplosive charges from British midget submarines Х6 and Х7 in Alten-fjord, in the same place she was damaged by British carrier aircraft 3.4.1944 and 24.8.1944, later by British Lancaster heavy bombers 15.9.1944; 12.11.1944 she was sunk by 32 British Lancaster bombers with usage of Tallboy superheavy bombs in the Tromsö-fjord: as result of two direct hits and three close misses battleship was turned over and sunk.