NAVYPEDIA
Photo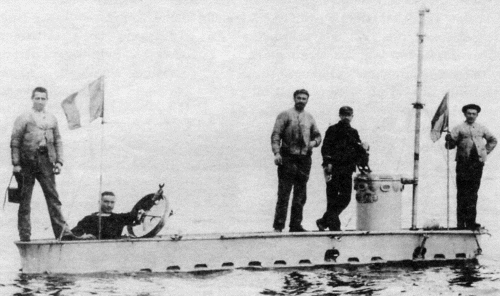 Gymnôte
Ships
| Names | Builders | Commissioned | Losses | Transfers | Discarding |
| --- | --- | --- | --- | --- | --- |
| Q001 Gymnôte | Arsenal de Toulon: Gymnôte | 11/1888: Gymnôte | none | none | 5/1908: Gymnôte |
100 - 1000 t displacement/ BRT tonnage vessels
Names
Q001 Gymnôte
Builders
Arsenal de Toulon: Gymnôte
Commissioned
11/1888: Gymnôte
Losses
none
Transfers
none
Discarding
5/1908: Gymnôte
Technical data
| | |
| --- | --- |
| Displacement standard, t |   |
| Displacement normal, t | 30 / 31 |
| Length, m | 17.8 |
| Breadth, m | 1.80 |
| Draught, m | 1.68 |
| No of shafts | 1 |
| Machinery | 1 Krebs electric motor |
| Power, h. p. | 33 |
| Max speed, kts | 7.3 / 4.3 |
| Fuel, t | battery only |
| Endurance, nm(kts) | 65(5) / 25(4.3) |
| Armament | 2 - 356 TC |
| Complement | 5 |
| Diving depth operational, m | 20 |
Graphics
Project history
Single-hull steel submarine boat designed by Gustave Zédé (1825-91); carried a detachable lead keel. She was ordered on 22 November 1886. Electric power was supplied from battery of 204 cells (total weight 9.5t). Gymnôte proved a great success, making some 2000 successful dives during her existence. Incorporation of hydroplanes (three a side) provided the solution which was to become standard in all subsequent submarines. Gymnôte could have been inspired by the locomotive torpedo which Robert Whitehead had invented in 1866. Gymnôte was essentially an experimental boat. Torpedoes were carried in drop-collars, one on each beam.
Modernizations
1898: displacement 33.2t, length 18.4m, Sautter-Harle engine 90hp, raised conning tower and new battery.
Naval service
She sank on 19 June 1907 at Toulon in dock and was refloated.
© 2007-2021 - navypedia.org