Photo

Détroyat 1979
Ships
| Name | No | Yard No | Builder | Laid down | Launched | Comp | Fate |
| --- | --- | --- | --- | --- | --- | --- | --- |
| D'Estienne d'Orves | F781 |   | Arsenal de Lorient | 1.9.1972 | 1.6.1973 | 10.9.1976 | retired 6.1999, to Turkey 5.2002 (Beycoz) |
| Amyot d'Inville | F782 |   | Arsenal de Lorient | 1.9.1973 | 30.11.1974 | 13.10.1976 | retired 7.1999, to Turkey 5.2002 (Bartın) |
| Drogou | F783 |   | Arsenal de Lorient | 1.10.1973 | 30.11.1974 | 30.9.1976 | retired 7.2000, to Turkey 10.2001 (Bodrum) |
| Détroyat | F784 |   | Arsenal de Lorient | 15.12.1974 | 31.1.1976 | 4.5.1977 | retired 7.1997, BU 2006 |
| Jean Moulin | F785 |   | Arsenal de Lorient | 15.1.1975 | 31.1.1976 | 11.5.1977 | retired 5.1999, BU 2014 |
| Quartier-Maître Anquetil | F786 |   | Arsenal de Lorient | 1.8.1975 | 7.8.1976 | 15.6.1979 | retired 6.2000, to Turkey 12.2001 (Bandırma) |
| Commandant de Pimodan | F787 |   | Arsenal de Lorient | 1.9.1975 | 7.8.1976 | 20.5.1978 | retired 7.2000, to Turkey 7.2001 (Bozcaada) |
| Second-Maître Le Bihan | F788 |   | Arsenal de Lorient | 1.11.1976 | 13.8.1977 | 11.7.1979 | retired 6.2000, to Turkey 6.2002 (Bafra) |
| Lieutenant de vaisseau Le Hénaff | F789 |   | Arsenal de Lorient | 21.3.1977 | 16.9.1978 | 13.2.1980 | in service (2019) |
| Lieutenant de vaisseau Lavallée | F790 |   | Arsenal de Lorient | 11.11.1977 | 29.5.1979 | 9.10.1980 | stricken 7.2018 |
| Commandant l'Herminier | F791 |   | Arsenal de Lorient | 29.5.1979 | 7.3.1981 | 19.1.1986 | stricken 7.2018 |
| Premier-Maître L'Her | F792 |   | Arsenal de Lorient | 15.12.1978 | 28.6.1980 | 5.12.1981 | in service (2019) |
| Commandant Blaison | F793 |   | Arsenal de Lorient | 15.11.1979 | 7.3.1981 | 28.4.1982 | in service (2019) |
| Enseigne de vaisseau Jacoubet | F794 |   | Arsenal de Lorient | 11.4.1979 | 26.9.1981 | 23.10.1982 | in service (2019) |
| Commandant Ducuing | F795 |   | Arsenal de Lorient | 1.10.1980 | 26.9.1981 | 17.3.1983 | in service (2019) |
| Commandant Birot | F796 |   | Arsenal de Lorient | 23.3.1981 | 22.5.1982 | 14.3.1984 | in service (2019) |
| Commandant Bouan (ex-Commandant Levasseur) | F797 |   | Arsenal de Lorient | 12.10.1981 | 23.3.1983 | 31.10.1984 | in service (2019) |
Technical data
Displacement standard, t

1100

Displacement full, t

1250

Length, m

76.0 pp 80.0 oa

Breadth, m

10.3

Draught, m

5.30

No of shafts

2

Machinery

2 SEMT-Pielstick 12PC2 V400 diesels

F791: 2 SEMT-Pielstick 12PA6 BTC diesels

Power, h. p.

12000

F791: 14400

Max speed, kts

23.5

Fuel, t

diesel oil

Endurance, nm(kts)

4500(15)

Armament

F781, 783, 786, 787: 2 x 1 MM38 Exocet SSM (2 MM38), 1 x 1 - 100/55 Mod. 1968, 2 x 1 - 20/70 Mk 10 Mod. 23, 4 - 533/550 torpedo catapults (4), 1 x 4 - 375 Mod. 1972 F1 ASWRL

F782, 784, 785, 788-791: 1 x 1 - 100/55 Mod. 1968, 2 x 1 - 20/70 Mk 10 Mod. 23, 4 - 533/550 torpedo catapults (4), 1 x 4 - 375 Mod. 1972 F1 ASWRL

F792-797: 4 x 1 MM40 Exocet SSM (4 MM40), 1 x 1 - 100/55 Mod. 1968, 2 x 1 - 20/70 Mk 10 Mod. 23, 4 - 533/550 torpedo catapults (4), 1 x 4 - 375 Mod. 1972 F1 ASWRL

Military load
18 commandos
Electronic equipment

DRBN-32, DRBV-51A, DRBC-32E radars, DUBA-25 sonar, ARBR-16 ECM suite

Complement

105
Standard scale images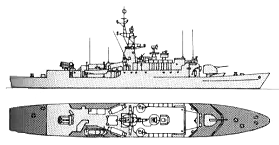 D'Estienne d'Orves 1980

Lieutenant de vaisseau Le Hénaff 2010
Graphics
Project history
Ordered as replacements for the 1950s-built escorteurs of the E 50 and E 52 series, the avisos of the A 69 class illustrate the changes in French maritime philosophy which had taken place by the late 1960s. They are austere vessels designed for coastal (not ocean) ASW and for patrol on colonial stations. There is additional berthing for a troop detachment of one officer and seventeen men.

The aviso role demanded a dual-purpose gun, good endurance and manoeuvrability. Since endurance was a more important consideration than speed, a 2-shaft diesel installation was adopted, producing a maximum speed of about 23.5kts. The two diesels are mounted side by side in a single engine room, and are controlled from an acoustically insulated and air-conditioned machinery control room immediately abaft the engine room. The Commandant l'Herminier has SEMT-Pielstick 12 PA 6 BTC diesels with infrared suppression features; protracted trials delayed her entry into operational service. All ships of the class are fitted with fin stabilisers except for Ducuing and Birot, which have a 'dynamic' stabilisation system. Early ships of the class experienced problems with funnel gases, and the funnel was heightened from the Jean Moulin onwards; this modification was subsequently extended to all ships of the class.

ASW capabilities are strictly limited. The austere high-frequency DUBA-25, the transducer for which is retractable but housed in a fixed dome, is designed for acquisition and attack in coastal waters down to 220m. The magazine for the 375mm RL was beneath the after deckhouse and contained thirty reloads, the rounds being hoisted by a hydraulic lift. The RL was remote-controlled from the operations centre. Inside the deckhouse itself are four catapults for ASW torpedoes angled at 30 degrees to the centreline on a forward bearing; no reloads are carried. It was intended to provide a hangar and flight deck for a Dauphin helicopter in Blaison and Jacoubet but the scheme was abandoned.

Originally the class was to have been divided into two sub-groups, designated A 69 and A 70 respectively. Ships belonging to the latter sub-group would have been fitted with Exocet SSMs. In the event bed-plates for Exocet were fitted in all ships, and the missiles are always carried by ships deploying overseas. Fire control for the single 100mm is provided by a DRBC-32E monopulse radar served by a semi-analogue, semi-digital computer.
Modernizations
1986-1995, all: - 1 x 1 - 100/55; + 1 x 1 - 100/55 Mod. 1968 CADAM, (2 - 4) x 1 - 12.7/90, 2x Dagaie decoy RL, SLQ-25 Nixie torpedo decoy

late 1980s, Détroyat; 1995-1997, Amyot d'Inville, Lieutenant de vaisseau Lavallée, Commandant l'Herminier: + 2 x 1 MM38 Exocet SSM (2 MM38)

1993, Commandant Blaison, Enseigne de vaisseau Jacoubet; 1994, Premier-Maître L'Her; 1996, Commandant Ducuing; 1997, Commandant Birot; 1999, Commandant Bouan: - 1 x 4 - 375 ASWRL; + satcom system

1995-1997, Quartier-Maître Anquetil, Premier-Maître L'Her, Commandant Blaison, Enseigne de vaisseau Jacoubet, Commandant Ducuing, Commandant Birot, Commandant Bouan: + 1 x 2 Simbad SAM (~16 Mistral)

2004-2005, all: - 2 x 1 - 20/70; + 2 x 1 - 20/90 F2, Panda DMA-B e/o detector

2009, all survived: - 2 x 1 MM38 Exocet SSM, 4 - 550 torpedo catapults, 2x Dagaie decoy RL

2010s, some: + Sea Cobra IR e/o detector
Naval service
No significant events.