NAVYPEDIA
Photo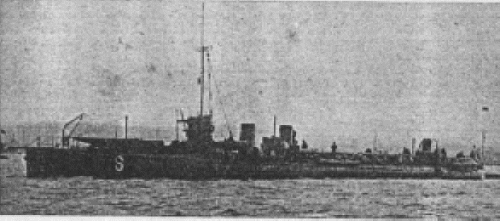 Simoun
Ships
| Name | No | Yard No | Builder | Laid down | Launched | Comp | Fate |
| --- | --- | --- | --- | --- | --- | --- | --- |
| Mistral, 1925- Borée |   |   | A C Augustin-Normand, Le Havre | 8.1898 | 4.5.1901 | 8.1901 | stricken 4.1928 |
| Siroco |   |   | A C Augustin-Normand, Le Havre | 8/1898 | 20.2.1901 | 1901 | stricken 5.1925 |
| Simoun |   |   | F C de la Méditerranée, Graville | 11.1899 | 23.3.1901 | 9.1901 | stricken 4.1925 |
| Typhon |   |   | F C de la Méditerranée, Graville | 12.1899 | 15.6.1901 | 1903 | sold 1928 |
| Trombe |   |   | A C de la Loire, Nantes | 8.1898 | 30.7.1900 | 1902 | sold 1928 |
| Audacieux |   |   | A C de la Loire, Nantes | 8.1898 | 29.8.1900 | 11.1900 | stricken 2.1923 |
Technical data
| | |
| --- | --- |
| Displacement normal, t | 113 |
| Displacement full, t | 183 |
| Length, m | 45.0 wl |
| Breadth, m | 5.15 |
| Draught, m | 1.60 |
| No of shafts | 2 |
| Machinery | 2 VTE, 2 Normand boilers |
| Power, h. p. | 4200 |
| Max speed, kts | 26 |
| Fuel, t | coal 25 |
| Endurance, nm(kts) | 1000(14) |
| Armour, mm | belt: 24, deck: 9 |
| Armament | 2 x 1 - 47/40 M1885, 3 x 1 - 380 TT |
| Complement | 30 |
Standard scale images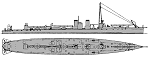 Mistral 1902
Graphics
Project history
Ordered 10.8.1898 to a Normand design Essentially a Cyclone modified with splinter-armour, these were the last 'torpilleurs de haute mer'. For 10 years Normand had advocated armoured TBs, but this was the only class so built. The boilers and engines were protected by a 24mm nickel-steel box (side and bulkheads) with a 9mm deck, which Normand considered invulnerable to the 57mm and 76mm of British TBDs. The extra 18t was expected to reduce the speed to 26kts, but the Normand boats reached 28.5kts on trials, and only the Loire boats made no more than their designed speed. One of the TTs was originally mounted on a pivot on the forecastle, but this was soon removed. Otherwise, they were successful and popular boats, retaining their good qualities for the whole of their service.
Ship protection
machinery spaces were protected by splinter protection consisted of 24mm belt and 9mm deck.
Modernizations
early 1900s, all: - 1 x 1 - 381 TT.
Naval service
No significant events.


© 2007-2021 - navypedia.org