NAVYPEDIA
Photo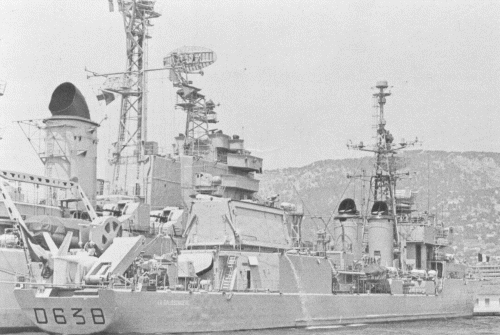 La Galissonière 1979
Ships
| Name | No | Yard No | Builder | Laid down | Launched | Comp | Fate |
| --- | --- | --- | --- | --- | --- | --- | --- |
| La Galissonière | D638 |   | Arsenal de Lorient | 4.11.1958 | 12.3.1960 | 9.7.1962 | stricken 4.1990 |
Technical data
| | |
| --- | --- |
| Displacement standard, t | 2750 |
| Displacement full, t | 3740 |
| Length, m | 132.8 |
| Breadth, m | 12.7 |
| Draught, m | 5.40 |
| No of shafts | 2 |
| Machinery | 2 sets Rateau geared steam turbines, 4 Indret boilers |
| Power, h. p. | 63000 |
| Max speed, kts | 34 |
| Fuel, t | oil 800 |
| Endurance, nm(kts) | 5000(18) |
| Armament | 1 x 1 Malafon ASuM (13 Malafon), 2 x 1 - 100/55 Mod 1953, 2 x 3 - 550 TT (12 L3), 1 x 4 - 305 ASWRL, 1 helicopter (Alouette II) |
| Electronic equipment | DRBV-22A, DRBV-50, DRBC-32A, DRBN-32 radars, DUBV-23, DUBV-43 VDS sonars |
| Complement | 333 |
Standard scale images

La Galissonière 1963

La Galissonière 1970

La Galissonière 1980
Graphics
Project history
Of the same basic design as the T 47/53 series, La Galissonière was completed as an experimental vessel fitted with an entire new generation of weapons and sensors. Originally it was intended that she should be armed with three of the new automatic 100mm DP mountings and 2 30mm AA, but the design was recast to incorporate the Malafon ASW missile launcher, and her armament as completed leaned heavily towards anti-submarine warfare. She provided the necessary experience for the design of a new generation of ASW fleet escorts.

La Galissonière was the first French escort to operate a helicopter. In order to make the most economical use of deck space, the top of the Malafon magazine formed the centre of the flight deck and a collapsible hangar was fitted above it, the sides folding down to provide additional width. This arrangement proved less than satisfactory and was not repeated in subsequent ships equipped with helicopters. The first helicopter operated was an Alouette II; this was later superseded by an Alouette III.
Modernizations
early 1970s: - 1 x 4 - 305 ASWRL; + ARBR/ARBA-10C ECM suite
Naval service
No significant events.
© 2007-2021 - navypedia.org