Photo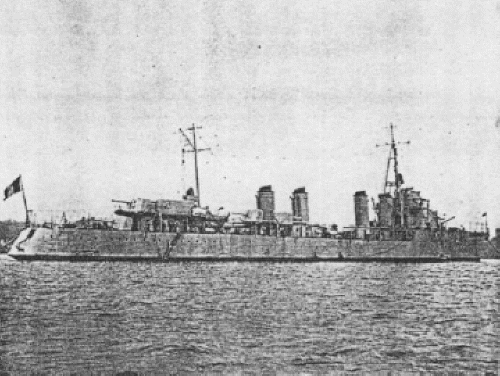 Bison prewar
Ships
| Name | No | Yard No | Builder | Laid down | Launched | Comp | Fate | Modification |
| --- | --- | --- | --- | --- | --- | --- | --- | --- |
| Guépard |   |   | Arsenal de Lorient | 3.1927 | 19.4.1928 | 8.1929 | scuttled 27.11.1942 | "A" group |
| Bison |   |   | Arsenal de Lorient | 3.1927 | 29.10.1928 | 10.1930 | sunk 3.5.1940 | "A" group |
| Valmy |   | Y5 | A C de St-Nazaire-Penhoët | 5.1927 | 19.5.1928 | 1.1930 | scuttled 27.11.1942 | "B" group |
| Verdun |   |   | A C de la Loire, St-Nazaire | 8.1927 | 4.7.1928 | 4.1930 | scuttled 27.11.1942 | "B" group |
| Lion |   |   | A C de France, Dunkerque | 7.1927 | 5.8.1929 | 2.1931 | scuttled 27.11.1942 | "B" group |
| Vauban |   |   | A C de France, Dunkerque | 3.1929 | 1.2.1930 | 2.1931 | scuttled 27.11.1942 | "B" group |
Technical data
Displacement standard, t
2436
Displacement full, t
3200
Length, m

123.1 pp 130.2 oa

Breadth, m

11.8

Draught, m

4.68

No of shafts

2

Machinery

2 sets Parsons geared steam turbines, 4 Yarrow or Penhoët boilers

Lion, Vauban: 2 sets Zoelly geared steam turbines, 4 Yarrow or Penhoët boilers

Power, h. p.

64000

Max speed, kts

35.5

Fuel, t

oil 572

Endurance, nm(kts)
3450(14.5)
Armament

5 x 1 - 139/40 M1923, 4 x 1 - 37/50 M1925, 2 x 2 - 13.2/76, 2 x 3 - 550 TT, 4 DCT, 2 DCR (54)

Complement
230
Standard scale images

Lion 1939

Lion 1939
Graphics
Project history
Built under 1925 (3 ships) and 1926 (3 ships) programmes. First series of 2400ton "four-funnelers". Eighteen ships have been built under close designs and had rare (and archaic) for 1930th years four-funnel outline profile. Reconnaissance, action on communications (protection of own and breaking of enemy trade), fighting against enemy light forces and support of the own were assumed to them. Originally ships differed by weakness of fire control system (only 1 rangefinder). Only in 1935 the second rangefinder was installed.

Insufficient firing rate of main guns (5-6rpm) and low muzzle velocity was considered as the basic lack. Originally destroyers carried 4 DCT, but in 1932 they were removed for stability raise. Weakness of ASW armament means was not considered as a significant lack ships did not intend for anti-submarine service. As a whole they have appeared quite good seaworthy boats. To beginning of WWII the majority of ships kept 37kts speed at full load. Outwardly ships of "A" and "B" groups differed slightly.
Modernizations
1932, all: - 4 DCT, 32 DC at all.

1939, Bison: + sonar

1941, Guépard, Valmy: - 1 x 3 - 550 TT; + 1 x 2 - 37/50 M1933, 2 x 1 - 13.2/76

1941, Verdun: + 1 x 2 - 37/50 M1933, 2 x 1 - 13.2/76
Naval service
Bison on night to 8.2.1939 collided with light cruiser Georges Leygues and lost fore end to the main gun No2. It is curious, that the gun together with its crew has appeared on cruiser forecastle. Destroyer was commissioned again before the war. 3.5.1940 at evacuation of Allied troops from Namsus (Norway) Bison was sunk by German diving bombers. All other ships of this class were scuttled at Toulon 27.11.1942. Guépard, Lion, Verdun and Valmy were raised by Italians, but were never repaired. Guépard was again sunk by Allied aircraft in March, 1944. Lion has received Italian name FR21 and 9.9.1943 was scuttled at Genoa at capitulation of Italy. Valmy has received name FR24, in September, 1943 was captured by Germans and scuttled by them at Genoa 24.4.1945.

1941

Many thanks to Wolfgang Stöhr for additional information on this page.