Photo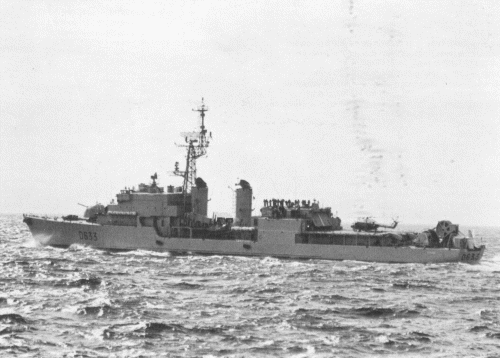 Duperré 1980
Ships
| Name | No | Yard No | Builder | Laid down | Launched | Comp | Fate |
| --- | --- | --- | --- | --- | --- | --- | --- |
| Duperré | D633 |   | Arsenal de Lorient | 2.11.1954 | 23.6.1956 | 8.10.1957 | trials ship A633 1967-1974, stricken 6.1992 |
| La Bourdonnais | D634 |   | Arsenal de Brest | 7.12.1954 | 15.10.1955 | 3.3.1958 | stricken 11.1977 |
| Forbin | D635 |   | Arsenal de Brest | 7.12.1954 | 15.10.1955 | 1.2.1958 | stricken 6.1981 |
| Tartu | D636 |   | A C Bretagne, Nantes | 14.12.1954 | 2.12.1955 | 5.2.1958 | stricken 4.1980 |
| Jauréguiberry | D637 |   | F C de la Gironde, Bordeaux | 9/1954 | 5.11.1955 | 15.7.1958 | stricken 9.1977 |
Technical data
| | |
| --- | --- |
| Displacement standard, t | 2750 |
| Displacement full, t | 3740 |
| Length, m | 128.6 |
| Breadth, m | 12.7 |
| Draught, m | 5.40 |
| No of shafts | 2 |
| Machinery | 2 sets Rateau geared steam turbines, 4 Indret boilers |
| Power, h. p. | 63000 |
| Max speed, kts | 34 |
| Fuel, t | oil 800 |
| Endurance, nm(kts) | 5000(18) |
| Armament | 3 x 2 - 127/54 Mod 1948, 3 x 2 - 57/60 Mod 1951, 4 x 1 - 20/70 Mk 4, 2 x 3 - 550 TT, 1 x 6 - 375 Bofors Mk 54 ASWRL |
| Electronic equipment | DRBV-22A, DRBI-10, DRBC-11, 2x DRBC-30 radars, DUBV-1, DUBA-1 sonars |
| Complement | 346 |
Standard scale images

Duperré 1963

La Bourdonnais 1970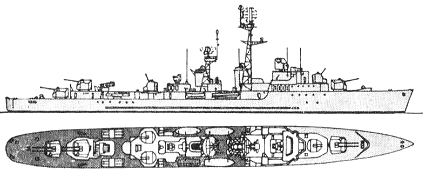 Tartu 1980

Duperré 1980

Duperré 1990
Graphics
Project history
The T 53 design was a follow-on from the T 47. Five ships were authorized in 1953, the sixth was completed to a revised design.

The main difference as compared with the T 47 was an increased capability for tracking and controlling aircraft. The air search radar - an improved model - was moved to the mainmast so that a DRBI-10 height-finder could be installed on the foremast. ASW capability was increased by the addition of a 375mm Bofors ASW RL aft; the forward banks of ASW tubes were deleted in compensation.
Modernizations
1969-1971, Tartu, La Bourdonnais, Jauréguiberry: + SENIT-2 CCS

1973, Forbin: - 1 x 2 - 127/54(aft), 1 x 2 - 57/60(fwd); + helicopter deck

1974, Duperré: had armament and sensors consisted of 4 x 1 MM38 Exocet SSM (4 MM38), 1 x 1 - 100/55 Mod 1968, 2 - 550 torpedo catapults (8 L5), 1 helicopter (Lynx), DRBV-22A, DRBV-51A, DRBC-51A radars, DUBV-23, DUBV-43 VDS sonars, 2x Syllex decoy RL, SENIT-2 CCS

late 1970s, Duperré: + DRBC-32E radar

1980s, Duperré: - 2 x Syllex decoy RL; + ARBR-16 ECM suite, 2x Corvus decoy RL
Naval service
In 1967 Duperré was disarmed and became a trials ship (pennant no A633) for a large variable-depth sonar. In 1972-74 she underwent an extensive ASW conversion and rerated as destroyer again.