Photo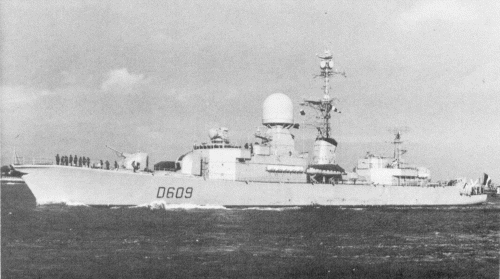 Aconit 1977
Ships
| Name | No | Yard No | Builder | Laid down | Launched | Comp | Fate |
| --- | --- | --- | --- | --- | --- | --- | --- |
| Aconit | F703, 1.1974- D609 |   | Arsenal de Lorient | 22.3.1968 | 7.3.1970 | 30.3.1973 | stricken 11.2014 |
Technical data
| | |
| --- | --- |
| Displacement standard, t | 3500 |
| Displacement full, t | 3900 |
| Length, m | 127.0 |
| Breadth, m | 13.4 |
| Draught, m | 5.80 |
| No of shafts | 1 |
| Machinery | 1 set Rateau geared steam turbines, 2 boilers |
| Power, h. p. | 28650 |
| Max speed, kts | 27 |
| Fuel, t | oil |
| Endurance, nm(kts) | 5000(15) |
| Armament | 1 x 1 Malafon ASuM (13 Malafon), 2 x 1 - 100/55 Mod 1968, 4 - 550 KD-59E torpedo catapults (10 L5), 1 x 4 - 305 ASWRL |
| Electronic equipment | DRBV-13, DRBV-22A, DRBC-32B, DRBN-32 radars, DUBV-23, DUBV-43 VDS sonars, 2x Syllex decoy RL, SENIT-3 CCS |
| Complement | 228 |
Standard scale images
Aconit 1980

Aconit 1995
Graphics
Project history
Aconit was the prototype for a series of five ASW corvettes designed for convoy escort work in the North Atlantic. Similar in size and conception to the ocean escorts of the US Knox class, she shares with them a single-shaft steam propulsion system which made her unique in the Marine Nationale. Although well-equipped for ASW by the standards of the day, the absence of a helicopter capability limited the potential of the design, and the four projected sister-ships were abandoned in favour of the larger, more capable C 67 (later F 67) class.

In terms of architecture she was a scaled-down version of the Suffren, with a block of superstructure forward surmounted by a prominent radome, a combined mast and funnel amidships, and a lower superstructure block aft. The ASW systems were essentially those trialled by the La Galissonière. The Malafon reload magasine was housed within the after superstructure block. The SENIT 3 tactical data system was designed specifically for this class, and was also a feature of the F 67.
Modernizations
1985: - 1 x 4 - 305 ASWRL, DRBV-13 radar; + 2 x 4 MM40 Exocet SSM (8 MM40), DRBV-15A radar, ARBR-16, ARBB-32 ECM suites, SLQ-25 Nixie towed torpedo decoy

1992: - DRBC-32B, DRBN-32 radars; + 2 x 1 - 20/90 MIT-20F2, 2 x 1 - 12.7/90, DRBC-32D, DRBN-34A radars, DSBV-62C towed sonar array
Naval service
Aconit was decommissioned in February 1997.