Photo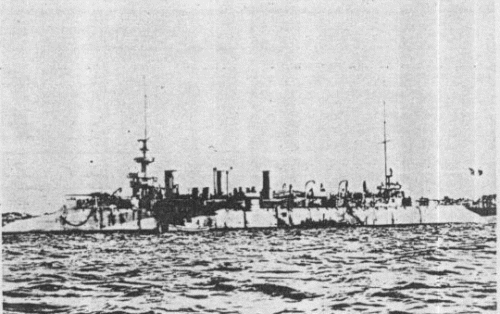 Dupuy de Lôme 1910s
Ships
| Name | No | Yard No | Builder | Laid down | Launched | Comp | Fate |
| --- | --- | --- | --- | --- | --- | --- | --- |
| Dupuy de Lôme |   |   | Arsenal de Brest | 4.7.1888 | 27.10.1890 | 15.5.1895 | sold 10.1918 |
Technical data
| | |
| --- | --- |
| Displacement normal, t | 6676 |
| Displacement full, t |   |
| Length, m | 111.0 pp 114.0 oa |
| Breadth, m | 15.7 |
| Draught, m | 7.49 max |
| No of shafts | 3 |
| Machinery | 1 VTE, 2 HTE, 13 cylindrical boilers |
| Power, h. p. | 13000 |
| Max speed, kts | 19.7 |
| Fuel, t | coal 1080 |
| Endurance, nm(kts) | 7000(10) |
| Armour, mm | steel; belt: 100, deck: 20 with 70mm slopes, main turrets: 200, secondary turrets: 100, CT: 130 |
| Armament | 2 x 1 - 194/45 M1887, 6 x 1 - 165/45 M1887, 4 x 1 - 65/50 M1891, 8 x 1 - 47/40 M1885, 8 x 5 - 37/20 M1885, 2 - 450 TT (beam, aw) |
| Complement | 526 |
Standard scale images

Dupuy de Lôme 1896
Graphics
Project history
This ship was entirely different from previous French cruisers. The 194mm guns were in turrets on either beam rising from the tumblehome, and the 165mm turrets were in close groups of three forward and aft, one turret in each group being on the centreline. The after group were all on the upper deck but the centre forward turret was on the forecastle deck which was much recessed to make space for the other two turrets. The ammunition tubes were not armoured. In appearance the Dupuy de Lôme was remarkable with a very marked snout or plough bow and a sloping stem. There were two funnels and two heavy military masts. Her completion was delayed by an accident to her boilers, which had to be changed, and in 1905 she was reconstructed to some extent, having 20 Normand boilers with three funnels installed and the military mainmast removed.
Ship protection
The side was completely armoured from 1.4m below water to the upper deck and there was a 20mm curved protective deck rising from the belt lower edge to the waterline. Below this was a splinter deck and over the engines and boilers the space between these decks, which was about 1.5m high on the centreline, was filled with coal. Above the protective deck there was a cellulose-filled cofferdam 0.8m wide to a height of 1m above water.
Modernizations
1905: boilers were replaced by 20 Normand, there were 3 funnels, military mainmast was removed.
Naval service
The Dupuy de Lôme was sold to Peru in September 1912 as the Commandant Aguirre but was never delivered and remained in France. In 1914 she was again renamed Dupuy de Lôme but not used during the WWI because of her poor condition. She was finally resold to Belgium in 1920 and converted to a cargo ship under the name Péruvier.