NAVYPEDIA
Photo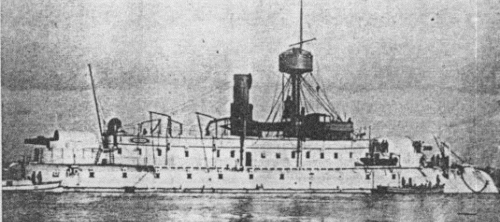 Tonnant 1890s  
Ships
| Name | No | Yard No | Builder | Laid down | Launched | Comp | Fate |
| --- | --- | --- | --- | --- | --- | --- | --- |
| Tonnant |   |   | Arsenal de Rochefort | 1/1875 | 1880 | 1884 | stricken 1903 |
Technical data
| | |
| --- | --- |
| Displacement normal, t | 5010 |
| Displacement full, t |   |
| Length, m | 73.8 pp 75.8 oa |
| Breadth, m | 17.8 |
| Draught, m | 5.26 max |
| No of shafts | 1 |
| Machinery | 1 HC, 4 cylindrical boilers |
| Power, h. p. | 2000 |
| Max speed, kts | 11.6 |
| Fuel, t | coal 200 |
| Endurance, nm(kts) |   |
| Armour, mm | wrought iron; belt: 450 - 340, barbettes: 370, deck: 50 |
| Armament | 2 x 1 - 340/18 M1875, 8 x 5 - 37/20 M1885 |
| Complement | 175 |
Standard scale images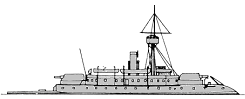 Tonnant 1884
Graphics
Project history
A ship with a low freeboard hull built up by a superstructure which was turtle-backed forward. The barbettes were shallow rings with armoured ammunition tubes and thin tunnel-shaped shields to the guns. They were located fore and aft on the lower superstructure one deck above the hull proper. There was a military foremast and single funnel.
Ship protection
The belt was 450mm at the waterline amidships reducing to 340mm at the ends with a 50mm deck at the belt upper edge.
Modernizations
None.
Naval service
No significant events.
© 2007-2021 - navypedia.org