Photo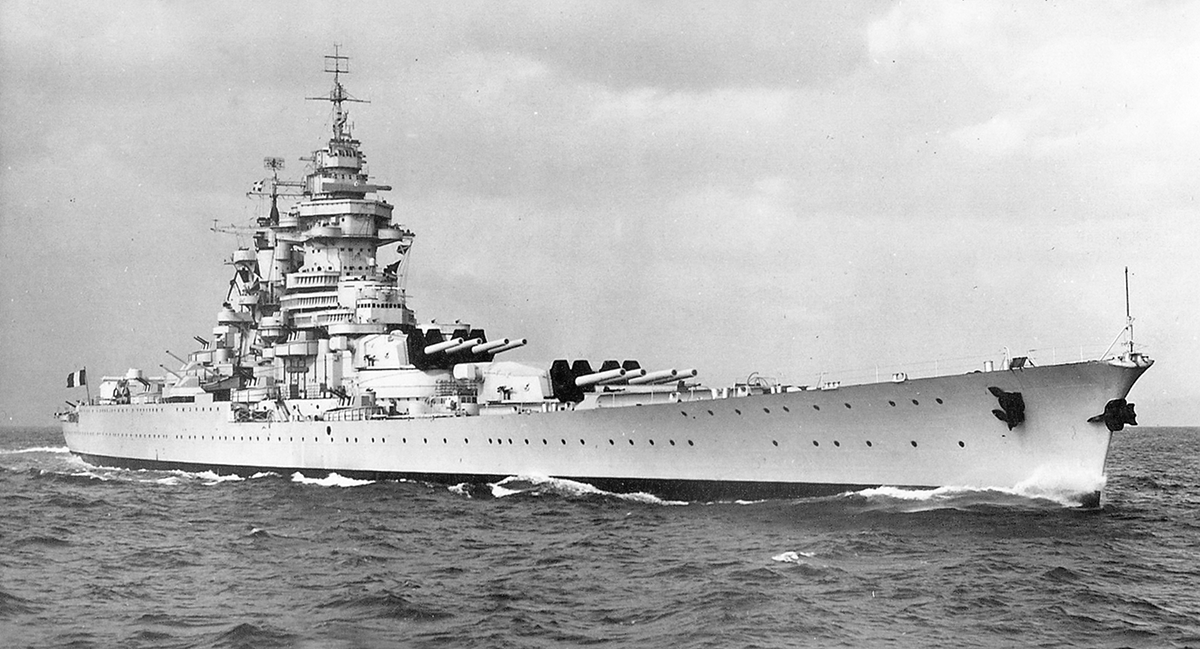 Richelieu off Provence coast in 1952
Ships
| Name | No | Yard No | Builder | Laid down | Launched | Comp | Fate |
| --- | --- | --- | --- | --- | --- | --- | --- |
| Richelieu |   | 61 | Arsenal de Brest | 22.10.1935 | 17.1.1939 | 15.7.1940 | FNFL 12.1942, TS 1.1956, accomodation hulk 5.1956 |
| Jean Bart |   | X6 | A C de la Loire et Penhoët, St-Nazaire | 12.12.1936 | 6.3.1940 | 16.1.1949, really 1.5.1955 | gunnery training hulk 1.1961 |
| Clemenceau |   |   | Arsenal de Brest | 17.1.1939 | 6.1943 | --- | scuttled incomplete 27.8.1944 |
Technical data
Displacement standard, t

Richelieu: 35000

Jean Bart: 42806

Displacement full, t

Richelieu: 47548

Jean Bart: 49850

Length, m

242.0 pp 247.9 oa

Breadth, m

Richelieu: 33.0

Jean Bart: 35.4

Draught, m

Richelieu: 9.63

Jean Bart: 9.22 normal 9.90 max

No of shafts

4

Machinery

4 sets Parsons geared steam turbines, 6 Sural-Indret boilers

Power, h. p.

Richelieu: 150000

Jean Bart: 162000

Max speed, kts

Richelieu: 30

Jean Bart: 32

Fuel, t

Richelieu: oil 6796

Jean Bart: oil 6476

Endurance, nm(kts)

Richelieu: 10000(12)

Jean Bart: 5850(18)

Armour, mm

main belt: 330, torpedo bulkhead: 50 - 30, main deck: 170 - 150, lower deck: 40 with 50-mm slopes, main turrets: 430 - 170, barbettes: 405, secondary turrets: 115 - 70, CT: 340

Armament

Richelieu: 2 x 4 - 380/45 M1935, 3 x 3 - 152/55 M1936, 6 x 2 - 100/45 M1930, 4 x 1 - 90/50 M1936, 4 x 2 - 37/50 M1933, 4 x 4 - 13.2/76, 2 x 2 - 13.2/76, 3 seaplanes (CAMS 37, Loire 130, Potez 452, GL832, Laté 298, PL.15, H.43), 2 catapults

Jean Bart: 2 x 4 - 380/45 M1935, 3 x 3 - 152/55 M1936, 12 x 2 - 100/55 M1945, 14 x 2 - 57/60 M1951, 20 x 1 - 20/70 Mk 4

Clemenceau (planned): 2 x 4 - 380/45 M1935, 4 x 3 - 152/55 M1936, 6 x 2 - 100/45 M1937, 6 x 2 - 37/50 M1937, 9 x 4 - 13.2/76

Electronic equipment

Jean Bart 1949: ABM, DRBV-10, DRBV-20, DRBV-30 radars

Jean Bart 1955: DRBC-10A, 2x ACAE, DRBV-11, DRBV-20, DRBV-30 radars

Complement

Richelieu: 1550

Jean Bart: 2134
Standard scale images

Richelieu 1943

Richelieu 1954

Jean Bart 1954

Richelieu 1950

Richelieu 1940

Richelieu 1943
Graphics
Project history
Richelieu and Jean Bart were built under the 1935 programme, third ship of class, Clemenceau, under the 1938 programme. They to a certain extent became development of Dunkerque and were the last and, probably, most perfect of "Washington" battleships. Despite the most severe measures on weight economy to be entered into "Treaty" 35000t, in the design it was possible to reach good equation of general performances. Many progressive constructive decisions included in it have been tested on Dunkerque. Richelieu was distinguished by main artillery, concentrated in two turrets, strong dual-purpose battery and 30kts speed. Though they could not make 152mm guns rather dual-purpose.

A complex pooling a superstructure, mast and funnel, added originality to external appearance. The project was outlined also by strong underwater protection: at the time of building it was "deepest" in the world, up to 7m amidships. It in general repeated the system accepted to Dunkerque (alternating of empty and liquid filled compartments). Adding of 1.27m-wide bulges at modernization additionally improved underwater protection.

Armoured belt plates were inclined outside at 15.24°, that ensured the resistibility equivalent of 478mm of vertical belt. Thus this belt was moved into the hull, and compartments between the belt and external plating contained a water-resistant filler: rubber foam "Ebonite Mousse". Deck armour could be considered as the best in the world. In whole, regarding protection these battleships can hold one of the first places among completed battleships in the world.

Though these decisions have been introduced already in the Dunkerque project, only Richelieu became an embodiment of a modern fast battleship for "first line". However owing to service circumstances they could not uncover their battle possibilities.
Ship protection
15°inclined internal 330mm thick main belt covered area 131.5x 5.96m, tapering to 170mm at lower edge. Its upper edge was connected with outside plating. Many small compartments between plating and belt were filled with special water-resistant material. Main belt was closed by 355-233mm fwd and 233mm aft bulkheads. Flat main deck laid on upper edge of main belt and had 170mm thickness over magazines and 150mm over machinery. Lower 40mm splinter deck connected with lower edge of main belt by 50mm slopes. Part of ship aft from citadel was protected by 100mm lower deck with 100mm slopes, closed by 150mm aft bulkhead of steering gear compartment, thickness of this deck over steering gear increased to 150mm. Main turrets had 430mm faces, 300mm sides and 195-170mm roofs. Barbettes had 405mm armour, but between armoured decks its thickness decreased to 80mm. Secondary turrets had 130mm faces, 70mm sides, rears and crowns; barbettes were 100mm. 7m-deep underwater protection was ended by 30mm torpedo bulkhead, its thickness increased to 40-50mm at ship ends. Jean Bart had tear-shaped torpedo bulges and depth of her underwater protection was 8.5m.
Modernizations 11.
1940, Richelieu: + 2 x 2 - 37/50 M1933

2/1941, Richelieu: + 1 x 4 - 13.2/76, 1 x 1 - 13.2/94, Sadir M.E.140 / M.E.126 radar

6/1941, Richelieu: + 2 x 1 - 13.2/94

7/1941, Richelieu: + 2 x 2 - 37/50 M1933

1/1943, Richelieu: - 8 x 2 - 37/50, 5 x 4 - 13.2/76, 2 x 2 - 13.2/76, 3 x 1 - 13.2/94, 3 seaplanes, 2 catapults, hangar: + 14 x 4 - 40/56 Mk 1.2, 50 x 1 - 20/70 Mk 4, SA-2, SF radars

late 1943, Richelieu: + type 284 radar

late 1944, Richelieu: + type 281B, type 285, SG-1 radars

8/1945, Richelieu: - 9 x 1 - 20/70; + 11 x 1 - 40/56 Mk 1.2 (full displacement was 48500 t).

1954, Richelieu: - type 284 radar; + DRBC-10A radar

Jean Bart: received all her armament only in May 1955.
Naval service
Incomplete Richelieu 19-23.6.1940 has passed to Dakar, 8.7.1940 she was damaged by torpedo bombers from British carrier Hermes. Artillery of this ship has played the important role in failure of British-French (Gaullist) attempt of capture of Dakar 23-25.9.1940. Thus two main guns have failed for technical reasons. Richelieu joined FNFL in December 1942. After transition of French forces to the party of Allies Richelieu 30.1.1943 departured to the USA for repair and modernization. Works proceeded till August and 20.11.1943 Richelieu become a part of British Home Fleet. In March, 1944 Richelieu arrived to the Far East and as a part of British squadron operated at coast of Indochina, returned to Toulon 11.2.1946. From January 1956 she served as gunnery training and accommodation hulk. Richelieu was finally stricken in January 1968 and sold for scrap.

Incomplete Jean Bart 19-22.6.1940 passed to Casablanca. There she was partially fetched to efficient condition. 1st main turret was prepared. To autumn of 1942 search radar was installed. By November, 1942, except bow main gun turret, ship had 5 twin 90mm/50 guns, 2 twin and 1 single 37mm MGs, 4 twin and 14 single 13.2mm MGs and 1 light MG. 8-10.11.1942 at landing of Allies at Casablanca battleship has shown resistance. During battle she was hard damaged by aircraft and gunfire of USN battleship Massachusetts (hits of three bombs and five or seven shells) and run aground by a stern. She was completed after war and became last completed battleship in the world. Jean Bart had started her first sea trials in January, 1949, commissioned in April 1950, received new AA armament in the winter 1951/52 and completely armed only in 1955. Jean Bart was used as fire support ship at Suez in 1956. She served as training gunnery hulk from 1961 and sold for BU in January 1970.

Hull of Clemenceau, laid under a little changed project, in 1943 was taken out by Germans from construction dock and 27.8.1944 sunk by American aircraft at Brest. After war the hull was salvaged and broken up.