Photo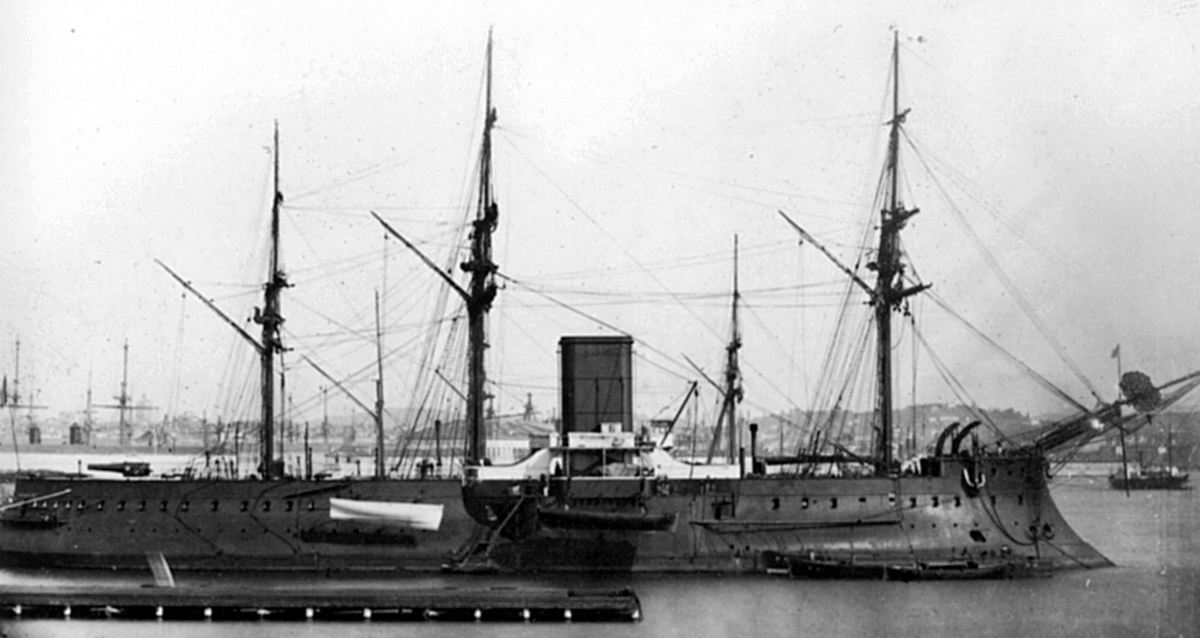 Redoutable
Ships
| Name | No | Yard No | Builder | Laid down | Launched | Comp | Fate |
| --- | --- | --- | --- | --- | --- | --- | --- |
| Redoutable |   |   | Arsenal de Lorient | 18.7.1873 | 18.9.1876 | 31.12.1878 | stricken 3.1910 |
Technical data
| | |
| --- | --- |
| Displacement normal, t | 9224 |
| Displacement full, t |   |
| Length, m | 97.1 wl 100.7 oa |
| Breadth, m | 19.7 |
| Draught, m | 7.80 max |
| No of shafts | 1 |
| Machinery | 1 HRCR compound, 8 oval boilers |
| Power, h. p. | 6200 |
| Max speed, kts | 14.7 |
| Fuel, t | coal 620 |
| Endurance, nm(kts) | 2840(10) |
| Armour, mm | wrought iron; belt: 350 - 220, battery: 300 - 240, deck: 60 - 45 |
| Armament | 8 x 1 - 274/20 M1875, 6 x 1 - 139/21 M1870, 12 x 5 - 37/20 M1885, 2 - 350 TT (aw, beam) |
| Complement | 705 |
Standard scale images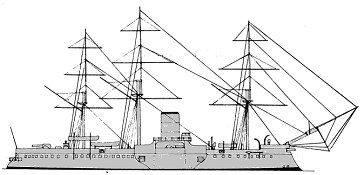 Redoutable 1878
Graphics
Project history
This ship was of quite different design to previous central battery ships. Beam was increased, draught reduced and the central battery shortened with only four guns mounted at the corners. With very marked tumblehome and the battery taken out to the full beam of the hull, all-round fire was obtained at the price of very limited broadside arcs, so that in most directions only one of the battery guns would bear. For the first time steel was used in large amounts for the hull though the armour was still wrought iron. There was a double bottom but there were no watertight longitudinal bulkheads, and the steam steering engine was above water. The four battery guns were of a lighter, lower velocity pattern than the four unarmoured upper deck ones, which were mounted under the forecastle, at the stern and on either beam in half-barbettes. The 139mm, later replaced by 100mm, were on the upper deck. Magazines for the battery guns were liable to be overheated by the machinery spaces. Metacentric height is given as 0.85m and originally she was full rigged with 2230 m2 , but later rigged as a barquentine. Ultimately the Redoutuble had two military masts which, with the large funnel, gave her an imposing appearance.
Ship protection
The belt was complete and ran from 1.5m below to 1.5m above wl. lt was 350mm amidships thinning to 220mm forward and to 230mm aft and at the lower edge. The battery armour upper edge was 5.8m above wl, and there was a 60mm deck at the belt upper edge outside the battery but no armoured roof to the latter.
Modernizations
1880s: - 5 x 1 - 274/20 (bow and battery); + 1 x 1 - 274/29 M1881, 4 x 1 - 274/18 M1870

late 1880s: - 4 x 1 - 274/18; + 4 x 1 - 240/29 M1881

1894: machinery was replaced by 8 cylindrical boilers and 1 VTE; - 3 x 1 - 274/20, 4 x 1 - 240/29, 6 x 1 - 139/21; + 3 x 1 - 274/40 M1893-96, 4 x 1 - 240/30 M1884, 6 x 1 - 100/45 M1891

1890s: - 7 x 5 - 37/20; + 5 x 1 - 65/50 M1891, 14 x 1 - 47/40 M1885, 5 x 1 - 37/20 M1885
Naval service
No significant events.