Photo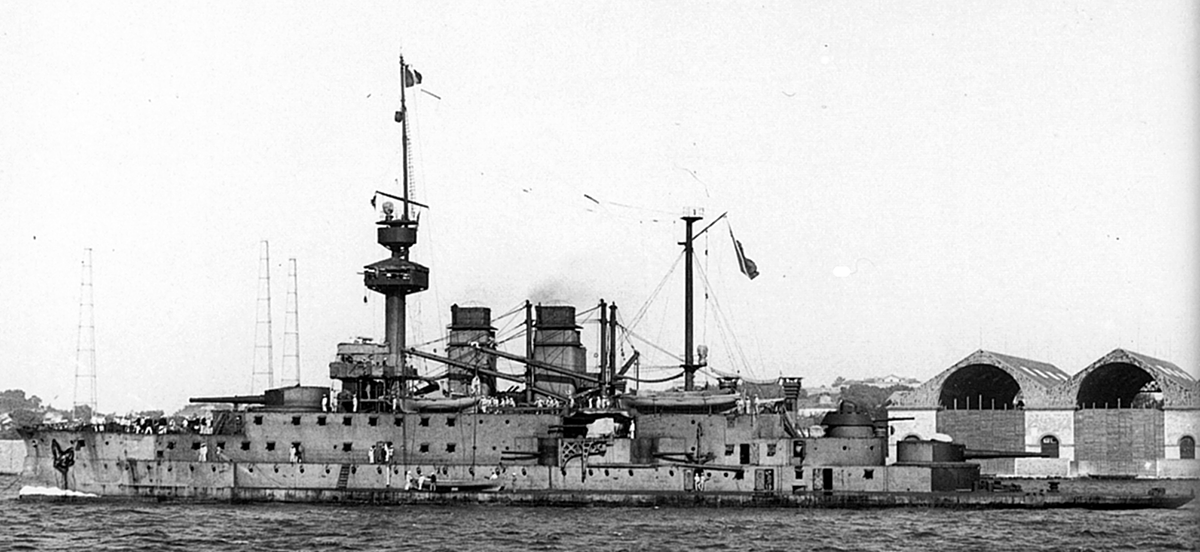 Henri IV
Ships
| Name | No | Yard No | Builder | Laid down | Launched | Comp | Fate |
| --- | --- | --- | --- | --- | --- | --- | --- |
| Henry IV |   |   | Arsenal de Cherbourg | 15.7.1897 | 23.8.1899 | 9/1903 | stricken 1920 |
Technical data
| | |
| --- | --- |
| Displacement normal, t | 8807 |
| Displacement full, t | 8948 |
| Length, m | 108.0 wl |
| Breadth, m | 22.2 |
| Draught, m | 6.98 max |
| No of shafts | 3 |
| Machinery | 3 VTE, 12 Niclausse boilers |
| Power, h. p. | 11000 |
| Max speed, kts | 17 |
| Fuel, t | coal 1080 |
| Endurance, nm(kts) | 5000(10) |
| Armour, mm | Harvey Nickel steel; belt: 280 - 75, upper belt: 100 - 75, main turrets: 300, turret bases: 240, secondary guns: 165 - 75, CT: 240, decks: 80 |
| Armament | 2 x 1 - 274/40 M1893-96, 7 x 1 - 139/45 M1891-93, 12 x 1 - 47/40 M1885, 2 x 1 - 37/20 M1885, 2 - 450 TT (beam, sub) |
| Complement | 464 |
Standard scale images

Henry IV 1903
Graphics
Project history
This remarkable ship is best considered as an experiment to try out some of the ideas of her designer Émile Berlin. The hull was of only 1.2m freeboard except forward where it was built up to normal upper deck height, and this was continued in a narrow superstructure recessed above the main deck to abaft the mainmast with an amidships shelter deck. The fore 274mm turret had a gun axis height of 9m and that aft one of 4.2m, while of the 139mm guns four were in 115-75mm main deck casemates with 165mm ammunition tubes, two in shields on the upper deck and one in a 115mm turret superfiring over the after 274mm. This was the first time that superfiring turrets had been fitted in a ship, and in this case blast effects were said to be bad since the 139mm was too short to clear the sighting hood of the 274mm turret. Metacentric height was 1.8m and there was a military foremast and pole mainmast.
Ship protection
The belt ended just short of the stern in a 100mm bulkhead and extended from 1.2m above to 1.3m below water. It was 280mm amidships with a 180mm lower edge reduced at the ends to 180mm with a 75mm lower edge. The upper belt was mostly 100mm and ran from the bows to 9m aft of the mid section along the superstructure side. Ii was 2m wide, increased to 4m forward, and ended in a 75mm bulkhead. The armour deck at main belt upper edge level was 60mm reduced to 30mm at the ends; the deck below this was 20mm on the centreline increased to 33mm near the sides and curved down about 0.9m inboard to form a torpedo bulkhead before joining the inner bottom. There was the usual cellular layer between the armour decks and a large number of small compartments inboard of the torpedo bulkhead. This system was based on experiments at Lorient in 1894 and was of a later design than that in the Tsesarevich. It was never tested in war but the torpedo bulkhead was clearly much too near the side. Four of 139mm guns were in 115-75mm main deck casemates with 165mm ammunition tubes, one was in turret with 115mm sides.
Modernizations
1917: part of the secondary artillery was disembarked.
Naval service
Henri IV served in the First World War and supported the army in the Gallipoli campaign.