Photo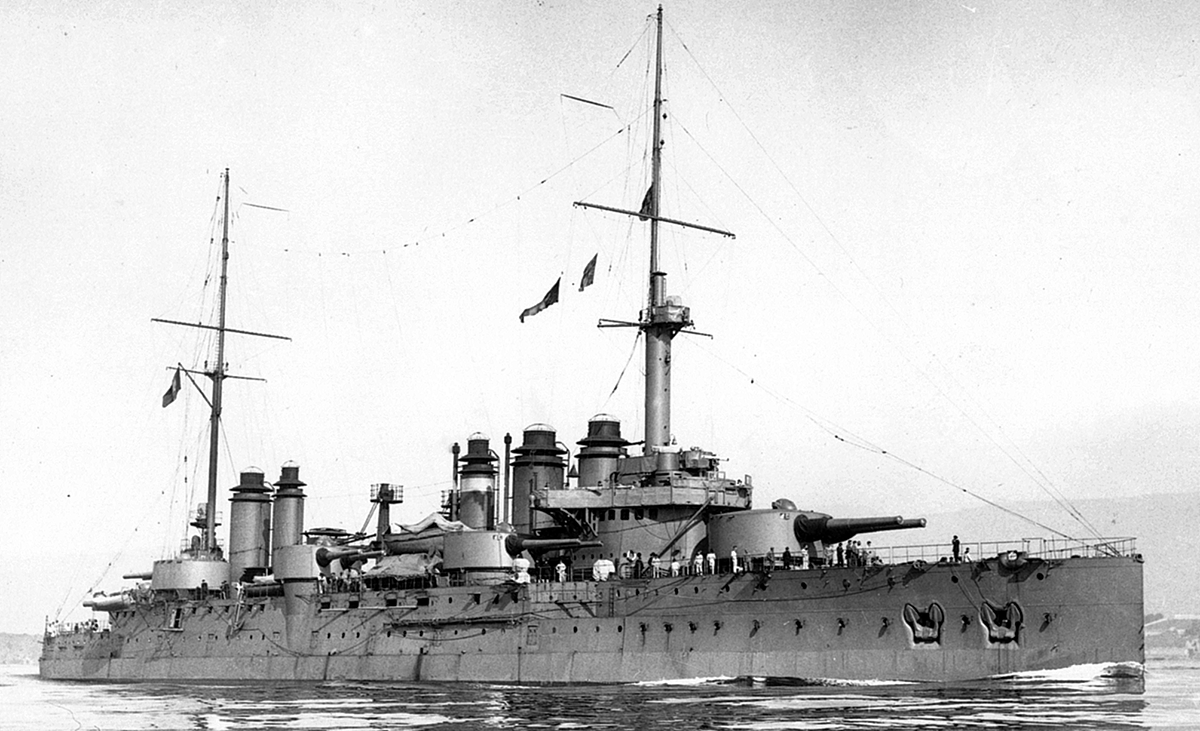 Danton
Ships
| Name | No | Yard No | Builder | Laid down | Launched | Comp | Fate |
| --- | --- | --- | --- | --- | --- | --- | --- |
| Condorcet |   |   | A C de la Loire, St-Nazaire | 23.8.1907 | 20.8.1909 | 25.7.1911 | TS 1.1927, depot ship 1931 |
| Danton |   |   | Arsenal de Brest | 2.1906 | 4.7.1909 | 1.6.1911 | sunk 19.3.1917 |
| Diderot |   |   | A C de la Loire, St-Nazaire | 20.10.1907 | 19.4.1909 | 1.8.1911 | TS 1.1927, condemned 1936 |
| Mirabeau |   |   | Arsenal de Lorient | 4.5.1908 | 28.10.1909 | 1.8.1911 | condemned 10.1921 |
| Vergniaud |   |   | C de la Gironde, Bordeaux | 7.1908 | 12.4.1910 | 22.9.1911 | deleted 10.1921, target |
| Voltaire |   | 1006 | F C de la Méditerranée, La Seyne | 20.7.1907 | 16.1.1909 | 1.8.1911 | TS 1.1927, condemned 1935 |
Technical data
Displacement normal, t

18318

Displacement full, t
19763
Length, m

144.9 wl 146.6 oa

Breadth, m

25.8

Draught, m

9.19 full load

No of shafts

4

Machinery

Condorcet, Diderot, Vergniaud: 4 Parsons steam turbines, 26 Niclausse boilers

Danton, Mirabeau, Voltaire: 4 Parsons steam turbines, 26 Belleville boilers

Power, h. p.

22500

Max speed, kts

19.2 - 19.4

Fuel, t

coal 2027

Endurance, nm(kts)

3370(10)

Armour, mm
belt: 270 - 150, upper belt: 48, main turrets: 300, barbettes: 280, secondary turrets: 220, deck: 48 + 45, CT: 300
Armament

2 x 2 - 305/45 M1906, 6 x 2 - 240/50 M1902/M1906, 16 x 1 - 75/63 M1908, 10 x 1 - 47/50 M1902, 2 - 450 TT (beam, sub)

Complement

681, later 921 - 923
Standard scale images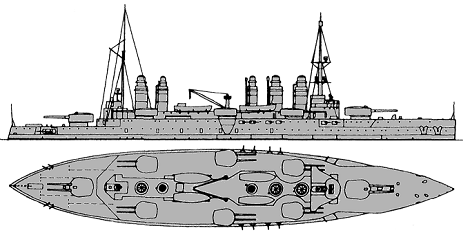 Danton 1915

Condorcet 1912
Graphics
Project history
France's first large turbine-engined ships, designed by L'Homme for the 1906 programme. Compared with the Patrie class battleships which had a displacement of just under 15000t, the increase to 18000t in these Danton class ships represented a major step forward. The displacement increase was used above all for strengthening the heavy artillery and denoted only a slight increase in speed. Heavy on coal, they were considered unsuccessful ships but were, however, useful in the Mediterranean due to their first-class armament of many rapid-fire guns.

Ships fitted with Belleville boilers made 20.18kts-20.66kts on 3hr trials; those with Niclausse boilers made 19.63kts-19.90kts. In 1918 the 240mm guns had their range increased to 1,000m from 13700m and at the same time they were given a fire control system as fitted to Dreadnought.
Ship protection
Main belt covered area from the bows to near the stern, its thickness was 270mm amidships tapering to 240mm at upper and 80mm at lower edges. These figures at ship ends were 150, 140 and 80mm respectively. Flat 48mm main deck was connected with upper edge of main belt and 45mm lower deck connected with lower edge of the belt by 70mm slopes. A space between these decks was divided into many small compartments, filled with coal or stores. Main turrets were protected by 300mm armour and had 280mm barbettes, secondary turrets had 120mm protection. There was underwater protection including 45mm torpedo bulkhead.
Modernizations
1917 - 1918, all: + 12 x 1 - 75/63 M1908 AA

1922 - 1925, Condorcet, Diderot, Voltaire: underwater protection was improved.
Naval service
Danton was sunk at Sardinia by a torpedo from German submarine U64. Voltaire on the night 11.10.1918 received at once two torpedo hits from submarine UB48, but has got off rather easy damages. Vergniaud and Mirabeau in 1919 arrived to Sevastopol, and latter 13.2.1919 during storm wrecked at Crimean coast and has been salvaged only in two months after dismantle of armour and fwd 305mm turret. After arrival to Toulon Mirabeau was not repaired and in 1921 converted to target. Also Vergniaud became a target; both ships have been broken up in 1928-1929. Remained three battleships since January, 1927 served on Mediterranean as TSs. Condorset later was used as a hulk and barrack ship at Toulon till August, 1944.