Photo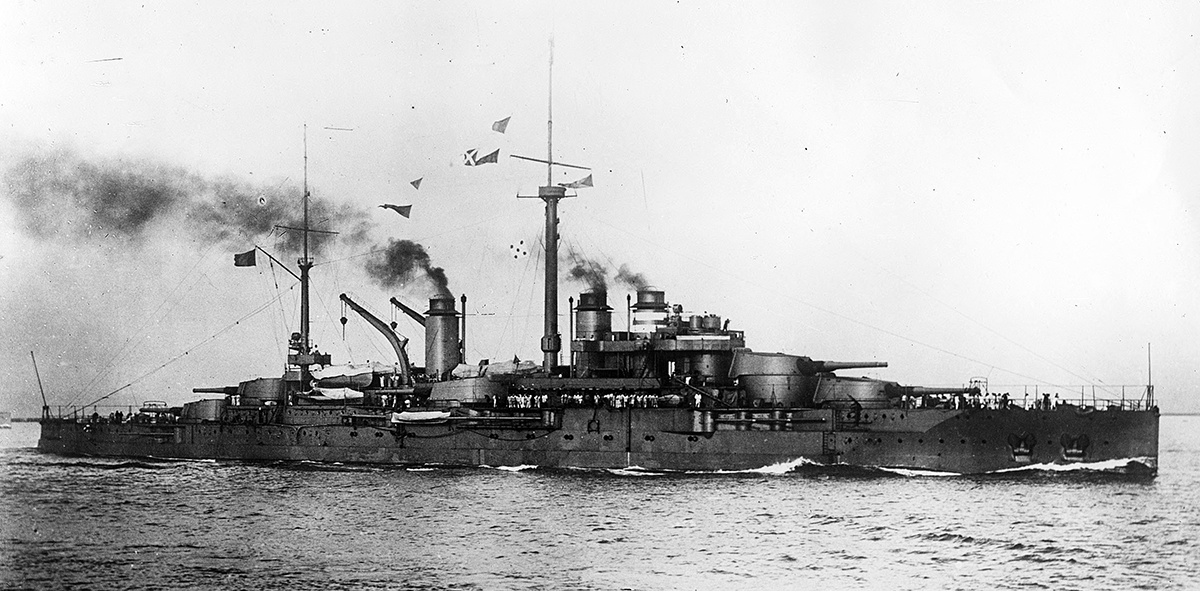 Jean Bart
Ships
| Name | No | Yard No | Builder | Laid down | Launched | Comp | Fate |
| --- | --- | --- | --- | --- | --- | --- | --- |
| Courbet |   |   | Arsenal de Brest | 1.9.1910 | 23.9.1911 | 19.11.1913 | FNFL 7.1940, scuttled 9.6.1944 |
| France |   |   | A C de la Loire, St-Nazaire | 30.11.1911 | 7.11.1912 | 8.1914 | foundered 26.8.1922 |
| Jean Bart, 1.1937- Océan |   |   | Arsenal de Brest | 15.11.1910 | 22.9.1911 | 5.6.1913 | training hulk late 1937 |
| Paris |   |   | F C de la Méditerranée, La Seyne | 10.11.1911 | 28.9.1912 | 1.8.1914 | FNFL 7.1940, accommodation ship 7.1940 |
Technical data
Displacement normal, t

22189

Displacement full, t
25000 - 26000
Length, m

158.5 pp 165.9 wl 168.0 oa

Breadth, m

27.9

Draught, m

9.00

No of shafts

4

Machinery

Courbet, Jean Bart: 4 Parsons steam turbines, 26 Belleville boilers

France, Paris: 4 Parsons steam turbines, 26 Niclausse boilers

Power, h. p.

28000

Max speed, kts

20

Fuel, t

coal 2706 + oil 310

Endurance, nm(kts)

4200(10)

Armour, mm
belt: 270 - 180, upper belt: 180, main turrets: 320, barbettes: 270, casemates: 180, main deck: 70, upper deck: 50, forecastle deck: 30, CT: 300 sides 270 roof
Armament

6 x 2 - 305/45 M1906-10, 22 x 1 - 139/55 M1910, 4 x 1 - 47/50 M1902, 4 - 450 TT (beam, sub)

Complement

1085 - 1108
Standard scale images

Paris 1940

Courbet 1925

Paris 1940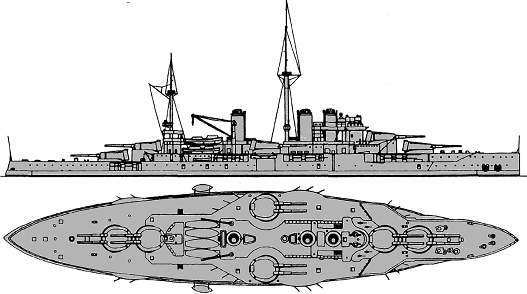 Courbet 1914
Graphics
Project history
Authorised under the 1910 (Courbet and Jean Bart) and 1911 (remainder) programmes, these were the Marine Nationale's first dreadnought-type battleships. Designed by M Lyasse. Although the armour thickness was increased in comparison with the Damons, it was much thinner than in the US and even the Royal Navy. The side armour extended comparatively far below the waterline, an arrangement which was due mainly to anxiety of underwater hits. Although the calibre of the medium guns -139mm - was less than the generally prevalent 152mm, the slightly smaller calibre was introduced because these guns had a higher rate of fire, which was important bearing in mind the problems of anti-torpedo-boat defence.

Trials results: Courbet 22.0kts, Jean Bart 22.6kts and Paris 21.7kts. Their 305mm guns were mounted in two pairs of rapid firing twin turrets fore and aft and two twin turrets on the sides on the same frames.
Ship protection
Complete main belt had height 4.75m (2.35m above water), its thickness was 270mm at 99m length amidships and 180mm at ship ends. Upper 180mm belt covered the part between the bows and aft casemate. Forecastle casemate had also 180mm protection. Main deck had 40mm thickness at flat part and connected with lower edge of main belt by 70mm slopes. Flat 45mm upper deck laid on the top of main belt. There was 40mm forecastle deck. Main turrets had 290mm faces, 250mm sides and 100mm crowns.
Modernizations
(10/1922 - 11.1923, Arsenal de Brest), Paris, (7/1923 - 4.1924, F C de la Méditerranée, La Seyne), Courbet, 1920s, Jean Bart: fwd 180mm belt was removed, 16 boilers were converted to burning oil. Fore mast was replaced by tripod. Maximal angle of main guns elevation was increased from 12 to 23°. Two fwd funnels were replaced by new one on Courbet and Jean Bart, fwd funnels on Paris were shifted closely together.

(1927 - 1929) Jean Bart, (8/1926 - 1.1927, Arsenal de Toulon) Paris: all boilers were converted to burning oil (maximal oil stowage was ~2500t); + 4 x 1 - 75/50 M1922

(1/1927 - 1.1931, F C de la Méditerranée, La Seyne) Courbet: all boilers were replaced by new oil-burning small-tube boilers (maximal oil stowage was ~2500t), steam turbines with direct drive were replaced by geared; + 4 x 1 - 75/50 M1922

(7/1934 - 5.1935) Paris: - 4 - 450 TT; + 3 x 1 - 75/50 M1922

(4/1937 - 9.1938) Courbet: - 4 - 450 TT; + 2 x 1 - 75/50 M1922

1939, Paris, Courbet: + 6 x 2 - 13.2/76, 2 x 1 - 13.2/76
Naval service
In days of the First World War all ships served on Mediterranean. Jean Bart 21.12.1914 was torpedoed by Austrian submarine U12, but she reached Malta and was later repaired.

France 26.8.1922 wrecked in Quiberon Bay during a storm on uncharted rock.

Jean Bart late 1937 was disarmed and converted to training hulk, 1.1.1937 she was renamed Océan. 27.11.1942 she was scuttled at Toulon but later salvaged by Germans and used as a target. 7.3.1944 ship was badly damaged by Allied aircraft, 15.3.1944 sank during German explosive trials, salvaged after war and sold for scrap 14.12.1945.

Courbet and Paris served since 1931 as training ships. To a beginning of war Courbet served as gunnery TS and Paris as signal TS. Maximal speed of both ships did not exceed 16kts. 3.7.1940 both ships have been captured by British. Courbet 11.7.1940 was transferred to FNFL, used as AA and radar TS and in April, 1941 disarmed and converted to target for FAA pilots. 9.6.1944 at Normandy landing she was scuttled at Arromanche as breakwater. Paris was transferred to FNFL also 11.7.1940 and served as barrack ship for Polish flotilla. Ship staffing by Polish crew was supposed. After war she was returned to France.