Photo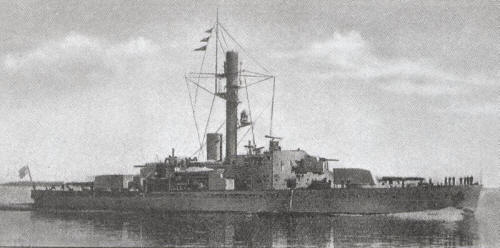 Väinämöinen
Ships
| Name | No | Yard No | Builder | Laid down | Launched | Comp | Fate |
| --- | --- | --- | --- | --- | --- | --- | --- |
| Väinämöinen |   | 705 | Crichton-Vulcan, Aabo | 8.1929 | 28.12.1930 | 12.1932 | to USSR 6.1947 (Выборг [Vyborg]) |
| Ilmarinen |   | 706 | Crichton-Vulcan, Aabo | 8.1929 | 9.7.1931 | 9.1933 | sunk 13.9.1941 |
Technical data
| | |
| --- | --- |
| Displacement standard, t | 3900 |
| Displacement full, t |   |
| Length, m | 93.0 pp |
| Breadth, m | 16.9 |
| Draught, m | 4.50 |
| No of shafts | 2 |
| Machinery | 4 Krupp-Germania diesel-generators, 2 Leonard electric motors |
| Power, h. p. | 6000 |
| Max speed, kts | 15 |
| Fuel, t | diesel oil 93 |
| Endurance, nm(kts) | 700(10) |
| Armour, mm | belt: 55-50, turrets: 100 (face), deck: 20-13, CT: 120 |
| Armament | 2 x 2 - 254/45 Bofors, 4 x 2 - 105/50 Bofors M1932, 4 x 1 - 40/39 QF Mk II, 2 x 1 - 20/60 Madsen |
| Complement | 330 |
Standard scale images

Ilmarinen 1941
Graphics
Project history
Original ships, one of the last in the world coast defence battleships. Design was prepared under Finnish order by German-Dutch bureau IvS. Order for building was given out 31.12.1927. As ships were designed for Gulf of Finland and Gulf of Bothnia, having strong ices in the winter, hull streamlines have got strongly pronounced icebreaking forms. There were 254mm/45 Bofors main guns, they had 50° maximal elevation angle and rather high firing range (162 cables). For the small dimensions Finnish battleships had strong AA armament.
Ship protection
Main belt covered the hull between the main barbettes and was closed by 30mm transverse bulkheads, flat main deck was connected with its upper edge. There was an anti-torpedo protection including one longitudinal bulkhead.
Modernizations 7.
1941, both: - 4 x 1 - 40/39; + 1 x 2 - 40/56 Bofors M36, 2 x 1 - 40/60 Bofors M38, 2 x 1 - 20/60 Madsen

autumn 1944, Väinämöinen: + 4 x 1 - 20/60 Madsen
Naval service
Ilmarinen 13.9.1941 during operation "Nordwind" was stricken by one or two mines (Finnish or German), capsized and quickly sank in 24nm SW off Ute. Väinämöinen 3.3.1947 was bought by Soviet Union and as Vyborg served till the mid-1960s.



Many thanks to Wolfgang Stoehr for additional information on this page.