NAVYPEDIA Support the project with paypal
Photo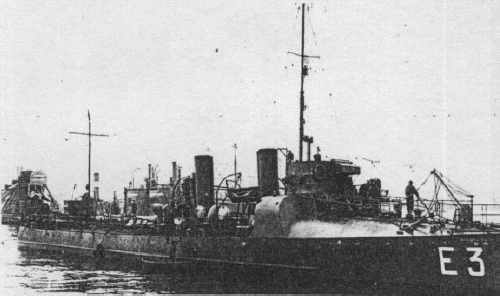 Sværdfisken 1923
Ships
| Name | No | Yard No | Builder | Laid down | Launched | Comp | Fate |
| --- | --- | --- | --- | --- | --- | --- | --- |
| Hvalrossen | 1920- 13, 1923- E1, 1929- P1 |   | Orlogsværftets, København |   | 31.3.1913 | 1913 | patrol boat 1929, scuttled 29.8.1943 |
| Delfinen | 1920- 12, 1923- E2, 1929- P2 |   | Orlogsværftets, København |   | 5.7.1913 | 1914 | patrol boat 1929, stricken 1932 |
| Sværdfisken | 1920- 11, 1923- E3, 1929- P3 |   | Orlogsværftets, København |   | 25.10.1913 | 1914 | patrol boat 1929, stricken 1932 |
Technical data
| | |
| --- | --- |
| Displacement standard, t | 169 |
| Displacement normal, t | 182 |
| Length, m | 45.2 |
| Breadth, m | 5.16 |
| Draught, m | 2.12 |
| No of shafts | 2 |
| Machinery | 2 VTE, 2 boilers |
| Power, h. p. | 3500 |
| Max speed, kts | 26.3 |
| Fuel, t | coal 29 |
| Endurance, nm(kts) | 685(14) |
| Armament | 1 x 1 - 75/52 M07, 1 x 1 - 8.80, 1 - 450 TT (bow), 1 x 2 - 450 TT, 1 x 1 - 450 TT |
| Complement | 30 |
Standard scale images

Hvalrossen 1914

Hvalrossen 1940
Graphics
Project history
Design was developed by Danish Admiralty. For their time design was rather conservative. Prominent feature of ships was presence of single and twin TTs simultaneously.

Hvalrossen in 1929 reclassified to patrol. Under some data, bow fixed TT to the Second World War beginning has been demounted.
Modernizations
None.
Naval service
Hvalrossen was scuttled by crew at Copenhagen 29.8.1943 to avoid capture. Subsequently she was raised by latters, but in course of salvage works ship hull has broken apart and her repair recognised as inexpedient.
© 2007-2022 - navypedia.org