Photo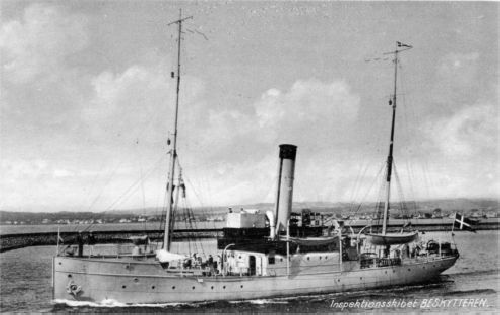 Beskytteren
Ships
| Name | No | Yard No | Builder | Laid down | Launched | Comp | Fate |
| --- | --- | --- | --- | --- | --- | --- | --- |
| Beskytteren |   |   | Orlogsværftets, København | 11.1899 | 7.6.1900 | 11.1900 | captured by Germany 8.1943 |
Technical data
| | |
| --- | --- |
| Displacement standard, t | 300 |
| Displacement full, t | 415 |
| Length, m | 43.4 |
| Breadth, m | 7.61 |
| Draught, m | 3.80 |
| No of shafts | 1 |
| Machinery | 1 VTE, 2 boilers |
| Power, h. p. | 625 |
| Max speed, kts | 11 |
| Fuel, t | coal |
| Endurance, nm(kts) | 1200(10) |
| Armament | 1 x 1 - 47/40 M.1885, 2 x 1 - 37/20 M.1875 |
| Complement | 47 |
Standard scale images

Beskytteren 1943
Graphics
Project history
Perhaps, fishery protection ships were unique ships of Danish Navy, intended for operations in high seas, though, of course, it is very difficult to consider them as rigorous warships. They represented very variegated company: huge, to Danish measures, Ingolf with more than 1000t displacement, armed with 120mm guns and carrying a seaplane, and small 80t Ternen with 37mm gun.
Modernizations
1930s: - 2 x 1 - 37/20; + 1 x 1 - 57/40 M.1885, 1 x 1 - 47/40 M.1885
Naval service
Beskytteren was captured by Germans in August, 1943 at Copenhagen. She was returned in May, 1945 and used as minesweeper depot ship till 1950.