NAVYPEDIA Support the project with paypal
Ships
| Name | No | Yard No | Builder | Laid down | Launched | Comp | Fate |
| --- | --- | --- | --- | --- | --- | --- | --- |
| Sargento Aldea (ex-Foudre) | 91 |   | DCN, Brest, France | 26.3.1986 | 19.11.1988 | 7.12.1990 // 23.12.2011 | in service (2019) |
Technical data
| | |
| --- | --- |
| Displacement standard, t | 8190 |
| Displacement full, t | 12000 |
| Length, m | 160.0 pp 168.0 oa |
| Breadth, m | 22.0 wl 23.5 oa |
| Draught, m | 5.60 mean 9.10 flooded |
| No of shafts | 2 |
| Machinery | 2 SEMT-Pielstick 16 PC2.5 V400 diesels |
| Power, h. p. | 20800 |
| Max speed, kts | 21 |
| Fuel, t | diesel oil |
| Endurance, nm(kts) | 11000(15) |
| Armament | 3 x 2 Simbad SAM (~24 Mistral), 3 x 1 - 30/82 OTOBreda-Mauser F Mod. 564, 5 x 1 - 12.7/90, 4 helicopters (Cougar) |
| Military load | 2 CDIC or 10 CTM, 2 LCVP, 40 tanks and combat vehicles, 70 jeeps and trucks, 470 troops |
| Electronic equipment | Decca 2459, DRBN-34A, DRBV-21A radars, 2x DIBC-2A E/O directors, ARBB-36 ECM suite, SLQ-25 Nixie torpedo decoy, SENIT 8.01 CCS |
| Complement | 218 |
Standard scale images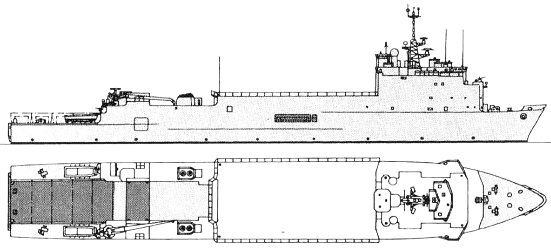 Sargento Aldea 2015
Project history
Ex-French Foudre class. Ships are designed to embark a 350-man mechanised regiment of the Force d'Action Rapide, together with 1080t of combat vehicles and cargo. Like their predecessors, they have a secondary role as mobile logistics and support ships. Improvements over the Ouragan class include: a higher transit speed; a hangar for four Super Puma helicopters; an elevator with a capacity of 52t connecting the docking well with the vehicle/cargo decks; a side ramp for rapid embarkation of vehicles from the dockside; permanent accommodation for 470 troops (Ouragan could embark this number only in an emergency); and advanced hospital facilities.

The docking well measures 122x13.5m and can accommodate a maximum of ten 24m CTM landing craft, or two of the CDIC tank landing craft. Two LCVP are suspended from davits abeam the after part of the docking well. The docking well can accept any of the standard French overseas patrol and support craft, including the 400t Super Patra, the BSR (Bâtiment de Soutien Regional) of the Chamois and RR 2000 types, and coastal tugs. It is served by a fixed 37t crane to starboard and transfer mechanisms to lift machinery and heavy equipment. The workshops can handle a wide variety of repair and maintenance tasks.

Two Super Puma (in Chilean Navy Cougar) helicopters can operate simultaneously from the 47x23m flight deck amidships, and the fitting of a removable 30x15m deck in five 6m sections above the docking well provides either an additional helicopter spot or a 40% increase in vehicle parking space. Abeam the after end of the hangar, to port, a second 37t crane serves the flight deck area. The hospital facilities are located directly beneath the flight deck to facilitate the transfer of casualties from the helicopters.
Modernizations
None.
Naval service
No significant events.
© 2007-2022 - navypedia.org