Photo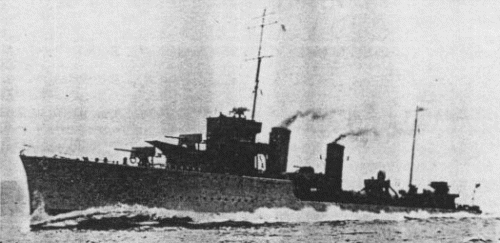 Teniente Serrano on trials
Ships
| Name | No | Yard No | Builder | Laid down | Launched | Comp | Fate |
| --- | --- | --- | --- | --- | --- | --- | --- |
| Sargento Aldea | A |   | Thornycroft, Southampton, UK | 3.1928 | 24.11.1928 | 7.1929 | stricken 2.1958 |
| Ingeniero Hyatt | H, 1960- 13? |   | Thornycroft, Southampton, UK | 9.1927 | 21.7.1928 | 4.1929 | stricken 1.1963 |
| Capitán Orella | O, 1960- 12 |   | Thornycroft, Southampton, UK | 6.1927 | 8.3.1928 | 12.1928 | stricken 9.1966 |
| Guardiamarina Riquelme | R, 1960- 11? |   | Thornycroft, Southampton, UK | 7.1927 | 21.5.1928 | 4.1929 | stricken 1.1963 |
| Teniente Serrano | S, 1960- 10 |   | Thornycroft, Southampton, UK | 6.1927 | 25.1.1928 | 12.1928 | stricken 9.1966 |
| Cirujano Videla | V |   | Thornycroft, Southampton, UK | 1.1928 | 16.10.1928 | 7.1929 | stricken 2.1958 |
Technical data
Displacement standard, t
1090
Displacement full, t
1430
Length, m

87.9 pp 91.4 oa

Breadth, m

8.84

Draught, m

3.86

No of shafts

2

Machinery

2 sets Parsons geared steam turbines, 3 Thornycroft boilers

Power, h. p.

28000

Max speed, kts

35

Fuel, t

oil 320

Endurance, nm(kts)
 
Armament

Serrano, Orella, Hyatt: 3 x 1 - 120/45 Vickers-Armstrong E, 1 x 1 - 76/40 12pdr 12cwt QF Mk I/II, 3 x 1 - 7.7/87, 2 x 3 - 533 TT, 2 DCT, mines

Aldea, Requelme, Videla: 3 x 1 - 120/45 Vickers-Armstrong E, 1 x 1 - 76/40 12pdr 12cwt QF Mk I/II, 3 x 1 - 7.7/87, 2 x 3 - 533 TT, 2 DCT, mechanical minesweeping gear

Complement

130
Standard scale images

Teniente Serrano 1938

Teniente Serrano 1955
Graphics
Project history
In 1927 Chilean Government has concluded with Thornycroft the contract on building of 6 destroyers in cost on 230.000£ for each. The design was developed on the basis of constructed by the same builder British destroyer Amazon, but differed by decreased dimensions, machinery capacity and absence of gun No4. Instead Serrano, Orella and Hyatt were equipped for minelaying, and Aldea, Requelme and Videla for minesweeping. On trials all destroyers on 1-1.5kts exceeded contract speed (for example, Orella reached 35.9kts). All ships were arranged for service in various climatic conditions, from high latitudes to tropics, but because of weak hull construction have been recognised by unsuitable for service in Antarctic because of what in this region it was necessary to use older ships of Almirante Lynch class. Serrano and Orella arrived to Chile 22.2.1929, remaining in September of the same year.
Modernizations
late 1940s, all: - 3 x 1 - 7.7/87; + 3 x 1 - 20/70 Mk 4

late 1950s, all survived: - 1 x 1 - 120/45, 1 x 1 - 76/40, 1 x 3 - 533 TT; + 1 x 24 - 178 Hedgehog Mk 11 ASWRL, radars, sonar
Naval service
Ships served more than 30 years, not passing significant modernizations.