Photo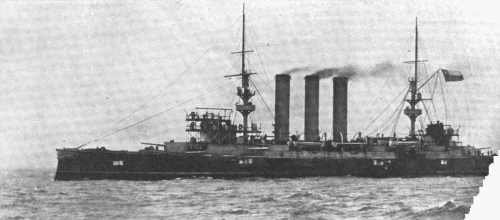 O'Higgins 1900
Ships
| Name | No | Yard No | Builder | Laid down | Launched | Comp | Fate |
| --- | --- | --- | --- | --- | --- | --- | --- |
| O'Higgins |   |   | Armstrong, Newcastle, UK | 4.4.1896 | 17.5.1897 | 2.4.1898 | discarded 1946 |
Technical data
| | |
| --- | --- |
| Displacement normal, t | 8500 |
| Displacement full, t |   |
| Length, m | 125.5 pp 135.2 oa |
| Breadth, m | 19.1 |
| Draught, m | 6.70 |
| No of shafts | 2 |
| Machinery | 2 VTE, 30 Belleville boilers |
| Power, h. p. | 16000 |
| Max speed, kts | 21 |
| Fuel, t | coal 1200 |
| Endurance, nm(kts) | 4580(8) |
| Armour, mm | Harvey nickel; belt: 178 - 127, protective deck: 51 - 38 with 76 - 38 slopes, main turrets: 178 - 127, secondary turrets and casemates: 152 - 127, CT: 229 |
| Armament | 4 x 1 - 203/40 Armstrong T, 10 x 1 - 152/40 Armstrong Z4, 4 x 1 - 120/44 Armstrong Y, 10 x 1 - 76/40 Armstrong N, 10 x 1 - 57/40 6pdr Hotchkiss, 3 - 450 TT (1 bow, 2 beam) |
| Complement | 500 |
Standard scale images

O'Higgins 1905
Graphics
Project history
In September, 1895 Chilean Government declared the tender for building of 7300t cruiser, protected by 178mm belt from Harvey steel and armed by 2 203mm and 10 152mm guns. Designers of Armstrong under the guidance of P. Watts developed 6 variants of a basic design with various arrangement of artillery and boilers type. The order was given out in March, 1896

As a whole she was a successful project for the time, served as prototype at creation of Japanese cruisers of Asama class. Hull was wood- and copper-sheathed. Ship differed by atypical for British shipbuilding rhombic arrangement of artillery. 203mm/40 guns were installed in single turrets: two on bow and stern and two aside between fwd superstructure and first funnel. From ten 152mm/40 guns four took places also in single turrets, remaining in casemates on battery deck. Machinery included 30 water-tube boilers grouped on 10 in three rooms. On trials with Chilean stockers ship has not reached designed capacity, nevertheless 20kts contract speed has been significantly exceeded: the result was 21.48kts at 15930hp.
Ship protection
79.2m-long belt was 2.1m-deep and was 178mm thick over the engine and boiler rooms and 152mm fore and aft. There was a complete protective deck, 38mm-thick behind the belt and 76-51mm-thick at the ends.
Modernizations
(1919-1920): - 4 x 1 - 120/44, 10 x 1 - 57/40; + 3 x 1 - 76/40 Armstrong N AA
Naval service
Since 1933 O`Higgins did not go out to sea, but within 24 years she served as command ship. She was discarded in 1946, sold in 1958, but scrapped only in 1964.