Ships
| Name | No | Yard No | Builder | Laid down | Launched | Comp | Fate |
| --- | --- | --- | --- | --- | --- | --- | --- |
| Huascár |   |   | Laird, Birkenhead, UK | 1864 | 7.10.1865 | 8.11.1866 // 8.10.1879 | submarine depot ship 1917 |
Technical data
| | |
| --- | --- |
| Displacement normal, t | 2030 |
| Displacement full, t |   |
| Length, m | 57.9 pp |
| Breadth, m | 10.7 |
| Draught, m | 5.56 max |
| No of shafts | 1 |
| Machinery | 1 HSE, 4 rectangular boilers |
| Power, h. p. | 1650 |
| Max speed, kts | 12.3 |
| Fuel, t | coal 300 |
| Endurance, nm(kts) |   |
| Armour, mm | iron; belt: 114, ends: 51, turret: 203 - 140, CT: 76 |
| Armament | 1 x 2 - 254/14 Armstrong 300pdr 12.5-ton MLR, 2 x 1 - 121/21 Armstrong 40pdr BLR |
| Complement | 170 |
Standard scale images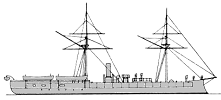 Huascár 1865
Project history
An iron-hulled turret ship with a raised forecastle and poop, a ram bow, two masts, one funnel and a single turret amidships containing two 254mm/14 12.5t Armstrong MLR guns. There was a double bottom beneath the engine and boiler rooms and the magazine, and she had hinged bulwarks amidships that were lowered in action.

Huascár was captured by boarding parties from Chilean ironclads Blanco Encalada and Cochrane in a badly damaged condition on 8.10.79 during battle of Angamos.
Ship protection
The ports had 203mm armour and the rest of the turret was 127mm thick. The belt extended 1.5m above and 0.9m below lwl, and was 114mm thick amidships, tapering to 51mm fore and aft.
Modernizations
1880s: new armament consisted of 1 x 2 - 203/26 Armstrong E, 2 x 1 - 121/21 Armstrong 40pdr BLR, 2 x 1 - 57/40 6pdr Hotchkiss, 2 x 5 - 37/17 Hotchkiss
Naval service
Huascár was later fitted as a gunnery training ship and was then preserved as a museum.