Photo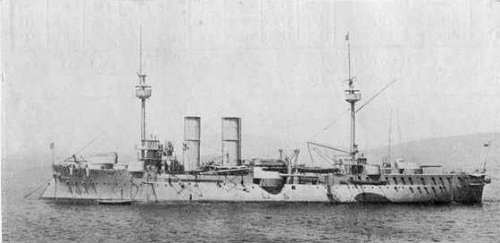 Capitán Prat 1910 with raised funnels
Ships
| Name | No | Yard No | Builder | Laid down | Launched | Comp | Fate |
| --- | --- | --- | --- | --- | --- | --- | --- |
| Capitán Prat |   |   | F C de la Méditerranée, La Seyne, France | 1889 | 20.12.1890 | 5.1893 | discarded 1936 |
Technical data
| | |
| --- | --- |
| Displacement normal, t | 6901 |
| Displacement full, t |   |
| Length, m | 100.0 pp |
| Breadth, m | 18.5 |
| Draught, m | 6.96 |
| No of shafts | 2 |
| Machinery | 2 HTE, 5 cylindrical boilers |
| Power, h. p. | 12000 |
| Max speed, kts | 18.3 |
| Fuel, t | coal 1100 |
| Endurance, nm(kts) | 4600(8) |
| Armour, mm | Creusot steel; belt: 300 - 200, ends: 150 - 100, citadel: 80, deck: 50, barbettes: 275 - 200, hoods: 50, CT: 265 |
| Armament | 4 x 1 - 240/36 Canet 23t, 4 x 2 - 120/45 Canet M1890, 6 x 1 - 57/40 Hotchkiss, 4 x 1 - 47/40 Hotchkiss, 10 x 1 - 37/20 Hotchkiss, 4 - 450 TT (1 bow, 2 beam, 1 stern) |
| Complement | 480 |
Standard scale images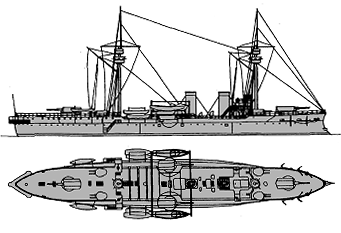 Capitán Prat 1893
Graphics
Project history
Ship had 4 single main gun turrets in a rhombic arrangement and twin secondary gun turrets. Steel-hulled, wood and copper sheathed. Fast 2nd class battleship, rather strong for her time.
Ship protection
Main complete belt extended 0.7m above and 1.4m below lwl. Above lwl amidships it was 300mm thick, tapering to 125mm fwd and 150mm aft; below lwl it reduced to 200mm, tapering to 100mm at the ends. The citadel amidships protected the engine and boiler rooms and extended to the upper deck, and was closed by 80mm bulkheads. There was 50mm deck on the belt outside the citadel.
Modernizations
(1909-1910): boilers were replaced by 12 Babcock & Wilcox (19.5kts on trials); - 4 x 1 - 47/40, 10 x 1 - 37/20, 2 - 450 TT (1 bow, 1 stern); + 4 x 1 - 57/40 Hotchkiss
Naval service
In 1931 Capitán Prat was used as temporary submarine depot ship.