Ships
| Name | No | Yard No | Builder | Laid down | Launched | Comp | Fate |
| --- | --- | --- | --- | --- | --- | --- | --- |
| Cochrane |   |   | Earle, Hull, UK | 4.1872 | 23.1.1874 | 12.1874 | TS 1898, hulk 1908 |
| Valparaiso, 9.1876- Blanco Encalada |   |   | Earle, Hull, UK | 1873 | 8.5.1875 | 1875 | sunk 23.4.1891 |
Technical data
| | |
| --- | --- |
| Displacement normal, t | 3370 |
| Displacement full, t | 3560 |
| Length, m | 64.0 pp |
| Breadth, m | 13.9 |
| Draught, m | 6.65 max |
| No of shafts | 2 |
| Machinery | 2 HC, 6 cylindrical boilers |
| Power, h. p. | 2920 |
| Max speed, kts | 12.7 |
| Fuel, t | coal 500 |
| Endurance, nm(kts) |   |
| Armour, mm | iron; belt: 229, ends: 152 - 114, battery: 203 - 152, CT: 76 |
| Armament | 6 x 1 - 229/15 Armstrong 12-ton MLR, 1 x 1 - 121/22 Armstrong 40pdr 35cwt BLR, 1 x 1 - 66/29 Armstrong 9pdr BLR, 1 x 1 - 63/19 7pdr BLR, 1 x 1 - 25/42 Nordenfelt |
| Complement | 300 |
Standard scale images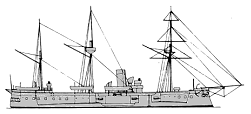 Blanco Encalada 1890
Project history
Iron-hulled, barque-rigged ships with fighting lops on the main- and foremasts. They had a ram bow and one funnel. The battery amidships overhung the ships' sides, which were recessed fore and aft. There was a double bottom under the magazines, engine and boiler rooms, and the hull was sheathed in wood and zinc. The ships were designed by Sir Edward Reed.
Ship protection
The complete belt was 229mm thick at the lwl amidships, with a 152mm strake above and below, reducing to 114mm at the ends. The lower strake of the battery armour was 203-178mm thick with a 152mm strake above it. There was 13mm plating on the upper and main decks.
Modernizations
1886, Blanco Encalada: was re-armed with 6 x 1 - 203/30 Armstrong K1, 4 x 1 - 82/27 14pdr BLR

1889, Cochrane: machinery was replaced (2 HTE, 6 new cylindrical boilers, 4300hp, 13.6kts); armament consisted of 6 x 1 - 203/30 Armstrong K1, 3 x 1 - 57/40 6pdr Hotchkiss QF, 6 x 1 - 37/20 Hotchkiss, 3 - 356 TT (2 bow, 1 stern)

1898, Cochrane: was converted to TS.
Naval service
Blanco Encalada was sunk 23.4.1891 by torpedo gunboats Almirante Lynch and Almirante Condell at Caldera. Cochrane was converted to TS in 1898 and hulked in 1908.