Photo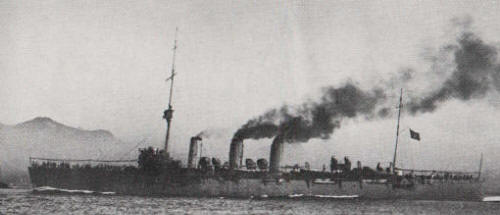 Bahia 1936
Ships
| Name | No | Yard No | Builder | Laid down | Launched | Comp | Fate |
| --- | --- | --- | --- | --- | --- | --- | --- |
| Bahia |   |   | Armstrong, Newcastle, UK | 19.8.1907 | 20.1.1909 | 2.3.1910 | sunk 4.7.1945 |
| Rio Grande do Sul |   |   | Armstrong, Newcastle, UK | 30.8.1907 | 20.4.1909 | 14.5.1910 | stricken 6.1948 |
Technical data
| | |
| --- | --- |
| Displacement normal, t | 3100 |
| Displacement full, t | 3185 |
| Length, m | 115.8 pp 122.4 oa |
| Breadth, m | 11.9 |
| Draught, m | 4.40 mean |
| No of shafts | 3 |
| Machinery | 3 Parsons steam turbines, 10 Yarrow boilers |
| Power, h. p. | 18000 |
| Max speed, kts | 26.5 |
| Fuel, t | coal 650 |
| Endurance, nm(kts) | 6600(10) |
| Armour, mm | deck: 19 with 31mm slopes, CT: 76 |
| Armament | 10 x 1 - 120/50 Armstrong CC, 6 x 1 - 47/40 Hotchkiss, 2 x 1 - 450 TT |
| Complement | 350 |
Standard scale images

Bahia 1910

Bahia 1939
Graphics
Project history
Built under the 1906 law, supplementing the extensive shipbuilding programme of 1904. Order was given out in May, 1907 to Armstrong, the subcontract on engines production was received by Vickers. Design was developed by J. Perret on a basis of British cruisers Adventure and Attentive, but contained a number of innovations doing Brazilian ships one of most perfect on that moment. In particular, in the design using of steam turbines instead of VTEs of prototype has been included, and also Bahia should exceed all available in the world or built cruisers on maximal speed. Bahia and Rio Grande do Sul had a hull structure typical for the time with a forecastle and poop. Because of coal-firing long-term keeping of full speed became problematic. On trials Baia has shown 27.02kts at 20010hp; Rio Grande do Sul 27.41kts at 22830hp.
Ship protection
Protection was limited by 19mm deck, having 31mm slopes over machinery and magazines, and also 76mm conning tower.
Modernizations
(1925 - 1926, Nacional de Navegacao Costeira, Rio de Janeiro), both: machinery was fully replaced by 3 Brown-Curtis geared steam turbines, 6 Thornycroft oil-firing boilers, funnels were replaced by three new (22000hp, 28kts). - 2 x 1 - 47/40, 2 x 1 - 450 TT; + 4 x 1 - 76/40 EOC AA, 2 x 2 - 533 TT

1942 - 1945, both: - 4 x 1 - 47/40; + (6 - 8) x 1 - 20/70 Mk 4, 2 DCT, radar, sonar
Naval service
Bahia was lost 4.7.1945 off island Sao Paolo from explosion of own DCs, called by casual shot from own 20mm MG during gunnery training. Rio Grande do Sul was stricken from fleet inventory 8.6.1948 and broken up.