Photo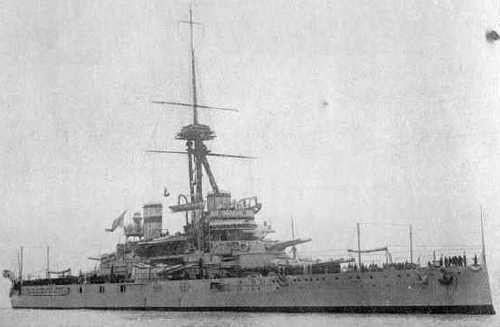 São Paolo 1925
Ships
| Name | No | Yard No | Builder | Laid down | Launched | Comp | Fate |
| --- | --- | --- | --- | --- | --- | --- | --- |
| Minas Gerais |   |   | Armstrong, Newcastle, UK | 17.4.1907 | 10.9.1908 | 5.1.1910 | stricken 9.1953 |
| São Paolo |   |   | Vickers, Barrow, UK | 30.4.1907 | 19.4.1909 | 12.7.1910 | stricken 8.1947 |
Technical data
| | |
| --- | --- |
| Displacement normal, t | 19281 |
| Displacement full, t | 21200 |
| Length, m | 152.4 pp 161.5 wl 165.5 oa |
| Breadth, m | 25.3 |
| Draught, m | 7.60 mean 8.50 max |
| No of shafts | 2 |
| Machinery | 2 Vickers VTE, 18 Babcock boilers |
| Power, h. p. | 23500 |
| Max speed, kts | 21 |
| Fuel, t | coal 2350 + oil 400 |
| Endurance, nm(kts) | 10000(10) |
| Armour, mm | belt: 229, ends: 152 - 102, casemate: 229, deck: 51 - 38, turrets: 229 - 203, CT: 305 |
| Armament | 6 x 2 - 305/45 Armstrong L, 22 x 1 - 120/50 Armstrong CC, 18 x 1 - 47/50 3pdr Vickers |
| Complement | 900 |
Standard scale images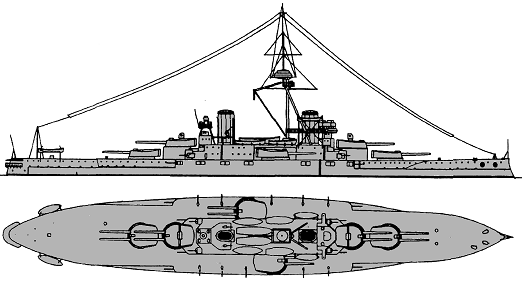 São Paolo 1917

São Paolo 1942

Minas Gerais 1942
Graphics
Project history
In 1890-1902 navies of being on the verge of war Argentina and Chile have replenished with considerable number of modern ships, that removed navy of the largest Latin American power, Brazil, on unusual to it third place. For correction of this situation, in October, 1904 the programme of naval renewal has been approved, providing building of 28 ships of various types. Its fulfilment returned to Brazilian Navy first place among the Latin American countries. Three battleships (were been planned to be named Rio de Janeiro, Minas Gerais and São Paolo), which building contract has been concluded 23.7.1906, should become a core of revived fleet. Their design was grounded on significantly redesigned drawings of British Triumph, but with 12 254mm guns in six turrets. After occurrence of British battleship Dreadnought the customer has wished to alter the design under new standard: 305mm guns and 21kts speed. Old contract was broken and 20.2.1907 it was signed a new on building of two ships: Minas Gerais and São Paolo (Rio de Janeiro was put aside for later term). Though Brazilian battleships have inherited a number of features of initial design (triple expansion steam engines, 12 main guns and rather low-board flushdecked hull without a forecastle), designers of Armstrong were not afraid to place majority of main gun turrets under superfiring scheme, Royal Navy started to do first steps in this direction some years later. . Main engines were placed in engine rooms, divided by longitudinal watertight bulkhead. Boilers took places in three rooms (4 in the first and on 7 in second and the third). Smoke ducts from No1 and 2 rooms were deduced to fore funnel, and from No3 to aft funnel. On trials both ships exceeded contract engine power (São Paolo made 27500hp, Minas Gerais 27212hp), reaching 21.5kt. Modernization of São Paolo has not taken place in view of her bad technical condition.
Ship protection
Main 229mm belt made from Krupp`s cemented armour steel, had 4.7m height and was stretched between barbettes of superfiring turrets. On 27.4m fwd and on 18.3m aft from it 152mm belt was installed, further to ship`s ends there was 76mm belt. Not reaching a stern frame, it was closed by 102mm bulkhead. In fore part, in place of joint of 152 and 76mm belts, there was 76mm bulkhead. Above main belt there was upper belt of the same thickness reached an upper deck. Abreast barbettes of superfiring turrets it left deep into hull and adjoined barbettes of end turrets. The citadel, formed by upper belt, was covered by an armour deck consisted from two 19mm layers. Out of a citadel over the main belt there was a flat 51mm armoured deck. Underwater protection was limited to a double bottom
Modernizations
(8/1918-1/1921, New York N Yd), São Paolo; (8/1920-10/1921, New York N Yd), Minas Gerais: new fire control system was installed, 305mm bulkheads were installed in the turrets between guns; - 10 x 1 - 120/50, 18 x 1 - 47/50; + 2 x 1 - 76/52 Mk 10, 8 x 1 - 37/27 Maxim

1933, São Paolo: maximal elevation angle of "X" turret was increased from 13 to 20°; - 8 x 1 - 37/27; + 4 x 2 - 20/60 Madsen

(1931-1938, Rio de Janeiro D Yd), Minas Gerais: boilers were replaced by 6 Thornycroft oil-firing ones, two funnels were replaced by one, machinery power was increased (30000hp, 22kts, 2200t of oil, 5350(10)nm). Maximal elevation angle of all turrets was increased to 18°. + 2 x 1 - 120/50 EOC CC, 4 x 1 - 102/45 EOC N, 4 x 1 - 40/39 2pdr QF Mk VIII

1940, Minas Gerais: - 4 x 1 - 40/39; + 6 x 2 - 20/60 Madsen
Naval service
In days of WWII both ships were used as floating batteries in ports of Recife (São Paolo) and El Salvador (Minas Gerais). São Paolo foundered under tow for breaking up 5.11.1951, Minas Gerais was BU in 1954.