NAVYPEDIA Support the project with paypal
Photo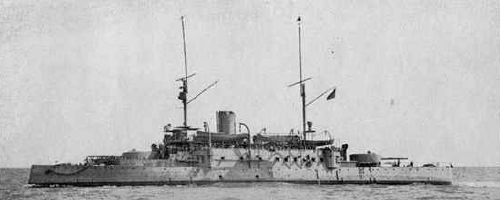 Marshal Floriano 1919
Ships
| Name | No | Yard No | Builder | Laid down | Launched | Comp | Fate |
| --- | --- | --- | --- | --- | --- | --- | --- |
| Marshal Deodoro (ex-Ypiranga) |   |   | F C de la Méditerranée, La Seyne, France | 1898 | 18.6.1898 | 1900 | to Mexico 1924 (Anáhuac) |
| Marshal Floriano |   |   | F C de la Méditerranée, La Seyne, France | 1899 | 6.7.1899 | 1901 | discarded 1936 |
Technical data
| | |
| --- | --- |
| Displacement normal, t | 3162 |
| Displacement full, t |   |
| Length, m | 81.5 |
| Breadth, m | 14.4 |
| Draught, m | 4.19 |
| No of shafts | 2 |
| Machinery | 2 VTE, 8 Lagrafel d`Allest boilers |
| Power, h. p. | 3400 |
| Max speed, kts | 15 |
| Fuel, t | coal 232 |
| Endurance, nm(kts) |   |
| Armour, mm | Harvey steel; belt: 350 - 150, ends: 100, deck: 45, turrets: 220, casemates: 75, CT: 125 |
| Armament | 2 x 1 - 234/45 Armstrong D, 4 x 1 - 120/50 Armstrong AA, 6 x 1 - 57/40 6pdr Hotchkiss, 2 - 450 TT (beam) |
| Complement | 200 |
Standard scale images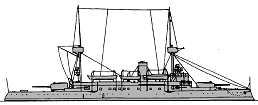 Marshal Deodoro 1914
Graphics
Project history
Typical French-designed coast defence battleships with low freeboard, long superstructures and single-gun main turrets arranged close to ships ends. They were built in France, but armed by British artillery (Armstrong). Ships had thick, but very narrow armored belt tapered to lower edge. Most modern Brazilian capital ships for their time, they completely become outdated to WWI.
Ship protection
Complete 1.68m deep belt was 350mm thick at the top and 150mm at the bottom amidships, tapering to 100mm at the ends, and there was 45mm sloping protective deck.
Modernizations
1912, both: boilers were replaced by 8 Babcock & Wilcox with oil-firing (400t of oil).
Naval service
No significant events.
© 2007-2023 - navypedia.org