Photo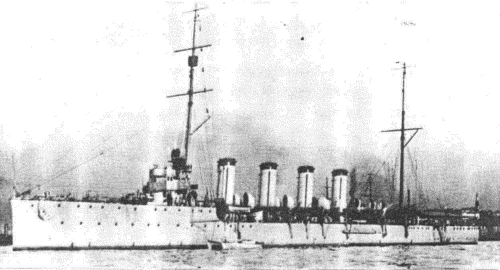 Admiral Spaun 1914
Ships
| Name | No | Yard No | Builder | Laid down | Launched | Comp | Fate |
| --- | --- | --- | --- | --- | --- | --- | --- |
| Admiral Spaun |   |   | Marinearsenal Pola | 30.5.1908 | 30.10.1909 | 15.11.1910 | to United Kingdom 1920 |
Technical data
| | |
| --- | --- |
| Displacement normal, t | 3500 |
| Displacement full, t | 4000 |
| Length, m | 129.7 wl 130.6 oa |
| Breadth, m | 12.8 |
| Draught, m | 5.30 deep load |
| No of shafts | 4 |
| Machinery | 6 Parsons steam turbines, 16 Yarrow boilers |
| Power, h. p. | 25000 |
| Max speed, kts | 27 |
| Fuel, t | coal 786 |
| Endurance, nm(kts) | 1600(24) |
| Armour, mm | side: 60, deck: 20, CT: 50 |
| Armament | 7 x 1 - 100/47 G. L/50 K.10, 1 x 1 - 47/40 SFK L/44 S, 1 x 1 - 8.80, 2 x 1 - 450 TT |
| Complement | 327 |
Standard scale images

Admiral Spaun 1910
Graphics
Project history
After an eight-year gap the Austro-Hungarian Navy re-entered the field of cruiser construction when the Naval Technical Commitee was ordered to design a 3500t cruiser on 1 May 1906. In the previous period the complex typology of cruisers, avisos, scouts, flotilla leaders and torpedo cruisers had become somewhat simplified in the world's navies. What was asked for in Austria-Hungary was a turbine-powered ship which would, be faster than contemporary cruisers such as the British Adventure, the US Chester and the German Emden, with slightly better armour protection; therefore armament had to be sacrificed. Admiral Spaun and her successors were designed as typical fast scouts, able to employ hit-and-run tactics to disrupt enemy communications and shipping routes and to dominate an engagement by the use of speed - and indeed they were used in this role during the war.

Admiral Spaun was the first major turbine-powered unit of the Austrian-Hungarian Navy; she had a 4-shaft arrangement, 2 of her 6 turbines being cruising turbines on the inner shafts. Nevertheless her propulsion system must be seen as an experimental prototype, and the ship suffered so many teething troubles with her engines that she never participated in the cruiser operations of her successors, although she saw wartime service in minor and less dangerous roles. In 1917 it was planned to up-gun her by replacing the 2-10cm on the forecastle by 1-15cm/50, but this was never executed.
Ship protection
60mm belt protected machinery only, 20mm flat main deck was connected with its upper edge. 20mm lower deck protected ship ends. CT had 50mm sides. Gun shields had 40mm faces and 8mm sides and roofs.
Modernizations 3.
1915: + 2 x 1 - 450 TT, 60 mines

1917: + 1 x 1 - 66/47 G. L/50 BAG
Naval service
In 1920 she was ceded to Britain and immediately sold to Italy for scrapping.