Photo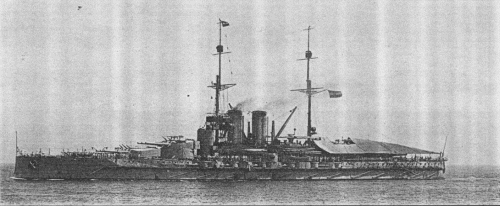 Tegetthoff 1914 Many thanks to Wolfgang Stöhr for additional information on this page.
Ships
| Name | No | Yard No | Builder | Laid down | Launched | Comp | Fate |
| --- | --- | --- | --- | --- | --- | --- | --- |
| Viribus Unitis |   | 427 | STT, San Marco | 24.7.1910 | 24.6.1911 | 5.12.1912 | sunk 1.11.1918 |
| Tegetthoff |   | 428 | STT, San Marco | 24.9.1910 | 21.3.1912 | 21.7.1913 | to Italy 1919 |
| Prinz Eugen |   | 451 | STT, San Marco | 16.1.1912 | 30.11.1912 | 17.7.1914 | to France 1919 |
| Szent István |   | 48 | Danubius, Fiume | 29.1.1912 | 17.1.1914 | 13.12.1915 | sunk 10.6.1918 |
Technical data
Displacement normal, t

20014

Szent István: 20008

Displacement full, t

21595

Szent István: 21689

Length, m

151.0 wl 152.2 oa

Breadth, m

27.3

Draught, m

8.90 deep load

No of shafts

4

Szent István: 2

Machinery

4 sets Parsons geared steam turbines, 12 Yarrow boilers

Szent István: 2 AEG-Curtiss steam turbines, 12 Babcock & Wilcox boilers

Power, h. p.

27000

Szent István: 26400

Max speed, kts

20.3

Fuel, t

coal 2000

Endurance, nm(kts)

4200(10)

Armour, mm

belt: 280 - 150, turrets: 280 - 60, casemates: 180, deck: 48 - 30 with 48mm slopes, torpedo bulkhead: 50, CT: 280 - 60

Armament

4 x 3 - 305/42 G. L/45 K.10, 12 x 1 - 149/47 G. L/50 K.10, 18 x 1 - 66/47 G. L/50 K.10, 2 x 1 - 66/16 G. L/18, 4 - 533 TT (1 bow, 2 beam, 1 stern)

Complement

1087

Szent István: 1094
Standard scale images

Viribus Unitis 1914
Graphics
Project history
Influenced by the impending construction of the first Italian dreadnought, the Austrian C-in-C, Montecuccoli, announced on 20 February 1908 that Austria-Hungary would build a new generation of battleships displacing 18000-19000t. In March 1908 Germany launched her first dreadnought (Nassau) and took the next step in the naval arms race by approving the Second Naval Amendment. Italy therefore postponed the keel laying of her first dreadnought obviously because Cuniberti and his chief naval engineer Edoardo Masdeo had to rethink the parameters of their design. In October 1908 the Austrian Naval Section issued orders for preliminary design studies and furthermore offered a prize in a design competition open to Austro-Hungarian naval architects. The results of both were to be overtaken by events during the next half-year. When in March 1909 the STT yard presented five different design studies, it had just become public that the Italians had gone their own way by adopting triple turrets for their Dreadnought A. (later the Dante Alighieri). The further development of the new Austrian battleship became problematical for the naval authorities, so they decided to adopt the triple turret as well, at the same time asking their German ally for information on the design of their newest type, the Kaiser class. This they duly received in April 1909 by special permission of the German Emperor. Nevertheless it seems that Austria-Hungary did not take into consideration German design philosophy and experience, since the basic Tegetthoff design had been accepted on 27 April 1909.

Italy had begun construction of Dreadnought A by 6 June 1909, so the Austrian C-in-C believed that obtaining the necessary funds in the 1910 budget (to be discussed in November 1909) would not be difficult. Two of the Radetzky class pre-dreadnoughts had already been launched and STT urgently needed follow-up contracts to maintain their force of skilled workers, so Montecuccoli lost no time and suggested as early as August 1909 that both STT and Škoda should start construction at their own risk until the budget was approved. To everyone's surprise the funds were refused for political reasons, and Montecuccoli was forced to embark on an elaborate campaign of deception and propaganda to disguise the fact that the ships were being built without parliamentary approval. He claimed that industry was financing construction on speculation, but it certainly was not, and was very uneasy with the situation. Not until Montecuccoli took an expensive 12 million crowns credit on his own responsibility were the keels of dreadnoughts IV and V laid, on 24 July and 24 September 1910. In the meantime Italy had launched the Dante Alighieri and started construction of her second dreadnought and France had laid the keel of her first (Courbet) to match the Central Powers' dreadnought superiority in the Mediterranean. Therefore the two Austrian dreadnoughts were already in the early stages of construction when the mutual parliamentary delegations met in March 1911 to discuss the 1911 budget.

From the technical point of view the Tegetthoffs were very compact and powerful ships and the first dreadnoughts in service with 305mm triple turrets, although Italy was the first naval power to design a triple turret and lay down a triple-turreted ship. Obviously German design theories about underwater protection came too late, so once again the Tegetthoffs had Popper's underwater protection scheme incorporating a double bottom. Although the Austro-Hungarian Naval Technical Committee had organized a design competition for this type, it was entirely Popper's brainchild because he had been consultant to the main contractor, STT, since his retirement in 1907.
Ship protection
The belt was 280mm between the end turrets and protected 55% of ship length, later it was tapered to 150mm (abreast end barbettes)-130mm-110mm (till the stem) fwd and to 150mm (aft), closed at span No102 by 130mm transverse bulkhead. Over the medium deck there was the upper 180mm belt (also between end barbettes), it was 110mm fwd from the fwd barbette but was closed by aft barbette. 280mm part of main belt was closed by 160mm bulkheads, 180mm part of the upper belt was closed by 120mm fwd and 180mm aft bulkheads. 15cm guns casemate was protected by 180mm sides and 180mm transverse bulkheads and was closed by 30mm steel deck. Medium deck between stem and 15cm battery and between 15cm battery and aft barbette was 30mm. Lower deck inside the citadel and consisted from 36mm flat part connected with lower edge of main belt by 48mm slopes. Outside the citadel the lower deck was 43mm fwd and 48mm aft. Barbettes had 280mm protection, turrets had 200m faces, 280mm sides and 150mm(angled part)-60mm(horizontal part) roofs. CTs had 280-250mm sides and 60(fwd)-50(aft)mm roofs. All torpedo protection consisted of the double bottom.
Modernizations
1915-1916, Viribus Unitis, Tegetthoff: + 4 x 1 - 66/47 G. L/50 BAG

1915-1916, Prinz Eugen, Szent István: + 3 x 1 - 66/47 G. L/50 BAG
Naval service
Szent István was torpedoed and sunk off Premuda Island on 10 June 1918 by the Italian MTB MAS15. Viribus Unitis was sunk in Pola harbour on 1 November 1918 by a limpet mine laid by two Italian frogman, after she had been handed over to the Yugoslav National Council. Tegetthoff was ceded to Italy in 1919 and scrapped in 1924-25 at La Spezia. Prinz Eugen was ceded to France in 1919, towed to Toulon and completely disarmed and stripped of her interior fittings. She was used as an explosives target for underwater shock tests and aircraft bombs. She was finally sunk as a gunnery target on 28 June 1922 by the French battleships Bretagne, Jean Bart, Paris and France.

Many thanks to Wolfgang Stöhr for additional information on this page.