Photo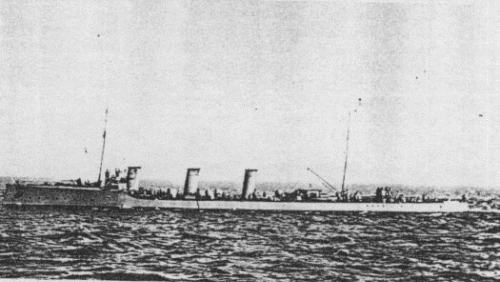 La Plata between the wars
Ships
| Name | No | Yard No | Builder | Laid down | Launched | Comp | Fate |
| --- | --- | --- | --- | --- | --- | --- | --- |
| Córdoba | D2, 1952- T15 | 850 | Schichau, Elbing, Germany | 1910 | 11.1910 | 7.1912 | stricken 1.1956 |
| La Plata | D4, 1952- T16 | 851 | Schichau, Elbing, Germany | 1910 | 1.1911 | 3.1912 | stricken 1.1956 |
Technical data
| | |
| --- | --- |
| Displacement normal, t | 875 |
| Displacement full, t | 1368 |
| Length, m | 90.0 |
| Breadth, m | 9.00 |
| Draught, m | 2.80 |
| No of shafts | 2 |
| Machinery | 2 Curtis-AEG steam turbines, 5 Schulz-Thornycroft boilers |
| Power, h. p. | 28000 |
| Max speed, kts | 35 |
| Fuel, t | coal 290 + oil 50 |
| Endurance, nm(kts) | 3000(15) |
| Armament | 4 x 1 - 102/50 Bethlehem No.1, 4 x 1 - 533 TT |
| Complement | 150 |
Standard scale images

nearly sister-ship Catamarca 1913

nearly sister-ship Catamarca 1933
Graphics
Project history
In January, 1909 the Argentine parliament has assigned means for building of 12 large destroyers under the 1907 program, accepted after the five years moratorium in reply to strengthening of Brazilian Navy. Orders for building have been given out in the end 1909 to British Cammell Laird (ships were named San Luis, Santa Fé, Santiago and Tucumán), French A C de Bretagne (San Juan and Salta) and Dyle & Bacalan (Mendoza and La Rioja), German Schichau (La Plata and Córdoba) and Krupp-Germaniawerft (Catamarca and Jujuy). All ships should had displacement of about 1000t, 32kts speed, were armed by 4 102mm/50 Bethlehem-Vickers guns and 4 single 533mm TTs, but differed with ship dimensions, machinery structure and funnels number. German-built destroyers were equipped with Curtiss-AEG turbines and Schultz-Thornycroft boilers with mixed firing. On six-hour trials 18.10.1911 Córdoba has shown 34.7kts at 25000hp, and La Plata made 36.8kts at 28000hp. Both destroyers built by Germaniawerft also exceeded contract speed on 2kts. In the summer of 1912 these ships crossed Atlantic and arrived to Argentina. Remaining 8 destroyers were not commissioned by Argentine Navy. Contract with Cammell Laird has been cancelled by Argentine party, ships finally were sold to Greece as Aetos, Ierax, Panthir and Leon. Remained ships 9.8.1914 were requisitioned by France and commissioned by French Navy as Temeraire, Intrepide, Aventurier and Opiniatre. To the Second World War beginning all destroyers made no more than 27kts.
Modernizations
1924-1925, both: boilers were converted to pure oil (220t of oil, 24000hp, 32kts, 2700(15)nm); - 1 x 1 - 102/50, 4 x 1 - 533 TT; + 2 x 1 - 2 x 1 - 37/43 11.2pdr QF AA Vickers, 2 x 2 - 533 TT, 1 DCT
Naval service
All ships were stricken 10.1.1956 and BU in 1959-1960.