Photo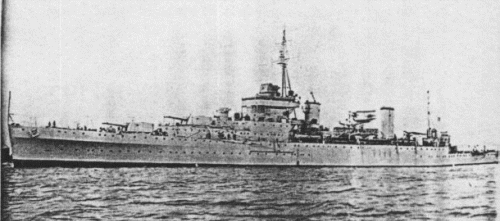 La Argentina 1939
Ships
| Name | No | Yard No | Builder | Laid down | Launched | Comp | Fate |
| --- | --- | --- | --- | --- | --- | --- | --- |
| La Argentina | C3 | 711 | Vickers-Armstrong, Barrow, UK | 11.1.1936 | 16.3.1937 | 31.1.1939 | stricken 1.1974 |
Technical data
| | |
| --- | --- |
| Displacement standard, t | 6500 |
| Displacement full, t | 7500 |
| Length, m | 155.4 pp 164.9 oa |
| Breadth, m | 17.2 |
| Draught, m | 5.03 |
| No of shafts | 4 |
| Machinery | 4 sets Parsons geared turbines, 4 Yarrow boilers |
| Power, h. p. | 54000 |
| Max speed, kts | 30 |
| Fuel, t | oil 1500 |
| Endurance, nm(kts) | 10000(12) |
| Armour, mm | belt: 76, deck: 51, turrets: 51, CT: 76 |
| Armament | 3 x 3 - 152/50 Vickers-Armstrong W, 4 x 1 - 102/50 Vickers-Armstrong P, 6 x 2 - 25/70 Vickers, 12 x 1 - 7.7/87, 2 x 3 - 533 TT, 1 catapult, 2 seaplanes (Walrus) |
| Complement | 800 (inc 60 cadets) |
Standard scale images

La Argentina 1949

La Argentina 1965

La Argentina 1939
Graphics
Project history
Double-purpose ship: light cruiser and training ship, some kind of analogue of French Jeanne d`Arc, but with more expressed "battle" qualities. Intended for replacement of outdated cruiser Pueyrredon of Garibaldi class and TS Presidente Sarmiento. She was built under special program accepted 29.9.1934, probably instead of the third cruiser of Almirante Brown class. Order for building was received by Vickers-Armstrong, developed the design on a basis of British cruiser Arethusa. Besides increased dimensions and strengthened armament Argentine ship differed by presence of additional accommodations for 60 cadets. The order has been signed 31.7.1935, stock period lasted 14 months, but then building rate was sharply fallen in connection with congestion of builder by orders of own fleet. Ship cost has made 6 million pesoes. 152mm/50 guns were developed on the basis of Mk XXIII, differing by more light construction and lighter shell. Triple turrets ensured an individual elevation guidance of guns or joint homing or central gun together with any of side guns. Being training, La Argentina had unusual fire control system: two of three directors were two-level (lower for main guns, upper for anti-aircraft guns), adapted for training of cadets. Machinery on structure repeated Arethusa, differing by decreased power. On trials La Argentina reached 30.46kts at 7590t and 54500hp. Ship arrived to Argentina in March, 1939.
Ship protection
Protection scheme reminded applied on British Town class. 76mm belt covered five compartments, and abreast both boiler rooms and engine room No1 on height reached upper, and out of them only main deck. 51mm armoured deck was connected with upper edge of main deck. Magazines had box-shaped protection.
Modernizations 10.
1946: + type 268 radar

1949: - 4 x 1 - 102/50, 6 x 2 - 25/70, 1 catapult, 2 seaplanes; + 4 x 2 - 40/60 Mk 1, 6 x 1 - 40/60 Mk 3, Mk 8 radar, displacement was 8500t (full)

1952: + SA-3 radar
Naval service
Till January, 1941 La Argentina was used for training. In 1951 she was reclassified from TC to cruiser, resuming her training role in 1961. In 1970 La Argentina was disarmed and decommissioned. 10.1.1974 she was stricken and sold for scrap 14.8.1975 and broken up in Buenos Aires.