Photo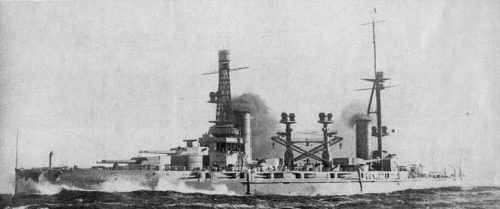 Rivadavia 1926
Ships
| Name | No | Yard No | Builder | Laid down | Launched | Comp | Fate |
| --- | --- | --- | --- | --- | --- | --- | --- |
| Rivadavia |   | 187 | Fore River, Quincy, USA | 25.5.1910 | 26.8.1911 | 12.1914 | disarmed 1952, stricken 2.1957 |
| Moreno |   | 103 | New York SB, Camden, USA | 9.7.1910 | 23.9.1911 | 3.1915 | accommodation ship 1949, stricken 10.1956 |
Technical data
| | |
| --- | --- |
| Displacement normal, t | 27940 |
| Displacement full, t | 31650 |
| Length, m | 178.3 pp 181.3 oa |
| Breadth, m | 30.0 |
| Draught, m | 8.50 normal |
| No of shafts | 3 |
| Machinery | 3 sets Curtiss geared steam turbines, 18 Babcock & Wilcox boilers |
| Power, h. p. | 39500 |
| Max speed, kts | 22.5 trials |
| Fuel, t | coal 4000 + oil 600 |
| Endurance, nm(kts) | 11000(11) |
| Armour, mm | belt: 305 - 254, ship ends: 152-127 (bow) 127 - 102 (stern), upper belt: 229 - 203, deck: 51 (76 slopes) + 38 + 38, turrets: 305 - 279, barbettes: 305, casemates: 152, CT: 305 |
| Armament | 6 x 2 - 305/50 Bethlehem, 12 x 1 - 152/50 Bethlehem, 16 x 1 - 102/50 Bethlehem, 2 - 533 TT (beam) |
| Complement | 1130 |
Standard scale images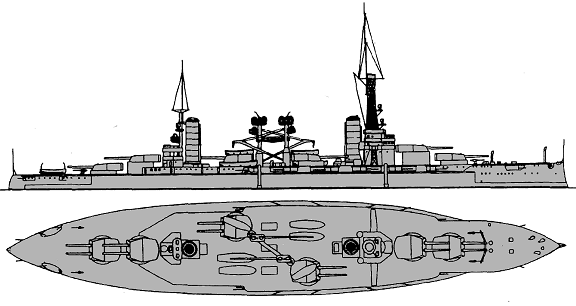 Moreno 1915

Moreno 1939
Graphics
Project history
In 1908, in reply to building of two dreadnoughts by Brazil, Argentina accepted huge shipbuilding program, according to which it was supposed to build 2 battleships (it was provided to increase their number to three in case Brazil will orders third ship), 6 destroyers and 12 torpedo boats. Competition was simultaneously declared, to which 15 companies from France, Germany, United Kimgdom, Italy and USA have responded. Having considered received designs, Argentineans did not begin to give out the order, and taking the best in their opinion from presented designs, have corrected the requirements and declared new competition. US Fore River as a result has won, whose price, 2,214,000£. was lower on 224,000£, than at the nearest competitor. Contract for building of Rivadavia and Moreno has been signed 22.1.1910. The history with double competition has displeased the participants who have charged Argentineans in breach of commercial confidence. Nevertheless, created in a backweight to Brazilian dreadnoughts, Argentine battleships notably exceeded them: they were larger, faster, were better protected, and at expense of more rational placing of main gun turrets at the same total salvo benefited in side salvo. On machinery arrangement Argentina battleships very much reminded Italian Dante Alighieri: boiler rooms were allocated nearer to ship ends, and engine rooms and main gun turrets were located between them. Three shafts became unique significant difference of these ships. On trials any ships has not reached a designed power (45000hp) and speed (23kts), 39750hp and 22.5kts were best result. The artillery also was made in the USA. Bethlehem 305mm guns were the version of Mk 7 gun, made for US Navy and were installed in six twin turrets under mixed scheme (end turrets on superfiring scheme, as in the US Navy, medium turrets diagonally, as on British and German ships). Fire angles of medium turrets on an opposite side were 100°. Secondary artillery at the moment of commission was the most numerous in the world: besides of 12 152mm/50 guns in armoured casemates on battery deck there were also 16 102mm/50 guns installed where only it was possible: by two in unprotected casemates near forecastle and stern, on two opened on a deck near to end turrets, remaining on two on turret roofs.

Later it was supposed to equip ships with seaplane, for what in 1928 were 6 Fairey IIIF bought, however onbattleships they for some reasons were never carried.
Ship protection
Protection scheme in general repeated accepted in Royal Navy. Main belt 2.4m in height covered all hull length, only a little not reaching stern frame. Armour plates reached 254mm thickness abreast barbettes of end turrets and 305mm between them; further in a bow the belt had 152mm and 127mm thickness respectively and 127mm and 102mm in the stern. Over the main belt there was upper 229-203mm belt. Battery deck between end barbettes had 38mm thickness. Main 51mm deck placed at level of an upper edge of the main belt. Not reaching about 2.5m to a side, it under 45° angle was dipped downwards by 76mm slopes and adjoined lower edge of the belt. In a bow and stern from end turrets main deck was dipped on one level lower and became flat. Underwater protection consisted of 76mm longitudinal bulkhead, dipped from main armour deck break to 38mm double bottom and placed in 2.5m from a side. Besides, on these ships for the first time in the world an attempt to defend the machinery and magazines from explosion under the bottom has been undertaken: decks (more precisely platforms) of these compartments were protected by 19mm armour.
Modernizations
(1924-1926, Boston N Yd), Rivadavia; (1924-1926, Philadelphia N Yd/Boston N Yd), Moreno: machinery was replaced by Curtiss geared steam turbines, boilers were converted to oil fuel only (27720t standard, 48000hp, 23.2kts, 2300t oil, 8030(14)nm), main mast was replaced by tripod; - 16 x 1 - 102/50; + 4 x 1 - 76/52 Mk 10

1930, Rivadavia (temporarily till 1931): + Fairey IIIF seaplane

1943 - 1944, both: + 4 x 1 - 40/56 Mk 1.2
Naval service
Rivadavia 3.10.1941 was damaged at collision with cruiser Almirante Brown. In 1952 ship was disarmed and 30.5.1957 sold for scrap. Moreno since 1949 was used as accommodation ship and sold for scrap 11.1.1957.